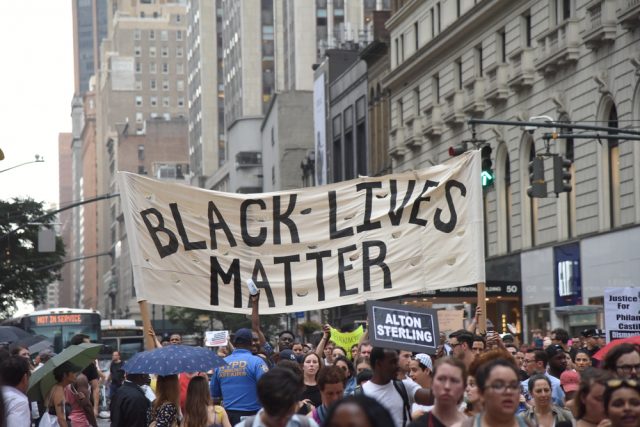 A leaked FBI report has sparked an ACLU inquiry into whether federal officials are racially profiling black activists. The report, titled, "Black Identity Extremists Likely Motivated to Target Law Enforcement Officers," raised concerns that the feds are inventing a new classification in order to justify profiling.
The FBI defines Black Identity Extremists (BIE) as:
individuals who seek, wholly or in part, through unlawful acts of force or violence, in response to perceived racism and injustice in American society and some do so in furtherance of establishing a separate black homeland or autonomous black social institutions, communities, or governing organizations within the United States.
The report also says "it is very likely some BIEs are influenced by a mix of anti-authoritarian, Moorish sovereign citizen ideology, and BIE ideology."
Much of the report is devoted to discussion of several incidents where black individuals allegedly attacked police officers. Those incidents are said to have been motivated by perceptions of unjust police action towards black people, and in some cases also by Sovereign Citizen ideology held by those who identify as Moors.
The FBI concludes based on their analysis of recent events that there is a likelihood that BIE will continue to perpetrate anti-police violence.
Upon seeing this, the ACLU and the Center for Media Justice filed a Freedom of Information Act (FOIA) request with the FBI, seeking "records regarding the FBI's surveillance of Black people on the basis of a purported shared ideology," specifying terminology that the FBI has used to label black activists, including "the FBI's new term, Black Identity Extremists.'"
The FOIA request brings up concern that the BIE classification could be an excuse for the FBI to "justify surveillance of, and other government action against, Black people, including Black activists." It also questions the wisdom of devoting resources to this issue based on what appears to be just six incidents, when "most individuals who shoot and kill officers are white and government reports show that white supremacists were responsible for nearly 75 percent of deadly extremist attacks between 2001 and 2016."
The ACLU and CMJ's request asks for any records since January 1, 2010 that use terms or abbreviations like Black Identity Extremist (BIE), Black Separatist Extremist (BSE), Black Nationalist (BN), Black Separatist (BS), or Black Supremacist Extremists (BSE), as well as records referencing violence attributed to black people in general or members of such groups. It also seeks records related to inquiries regarding the FBI's report.
"The FBI's report is a red flag that the bureau is once again profiling Black activists because of their beliefs and race," ACLU senior staff attorney Nusrat J. Choudhury said in a statement. "The public deserves to know whether the labeling of so-called 'Black Identity Extremists' is the latest flawed example in the FBI's history of using threats — real or perceived — as an excuse to surveil Black people."
CMJ executive director and co-founder Malkia A. Cyril said, "As a member of the Black Lives Matter Network, I am deeply concerned that Jeff Sessions' FBI and the Trump administration are escalating the use of high-tech tools to profile, police, and punish democratically protected activities of Black protestors despite volumes of evidence of a surge in white nationalist violence."
 The FBI said in a statement to LawNewz.com:
The FBI investigates activity which may constitute a federal crime or pose a threat to national security and cannot initiate an investigation based solely on an individual's race, ethnicity, national origin, religion, or the exercise of First Amendment rights.  The FBI remains committed to protecting those rights for all Americans. Our focus is not on membership in particular groups but on individuals who commit violence and other criminal acts. Furthermore, the FBI does not and will not police ideology. When an individual takes violent action based on belief or ideology and breaks the law, the FBI will enforce the rule of law.
Note: This article has been updated with a statement from the FBI.
Have a tip we should know? [email protected]