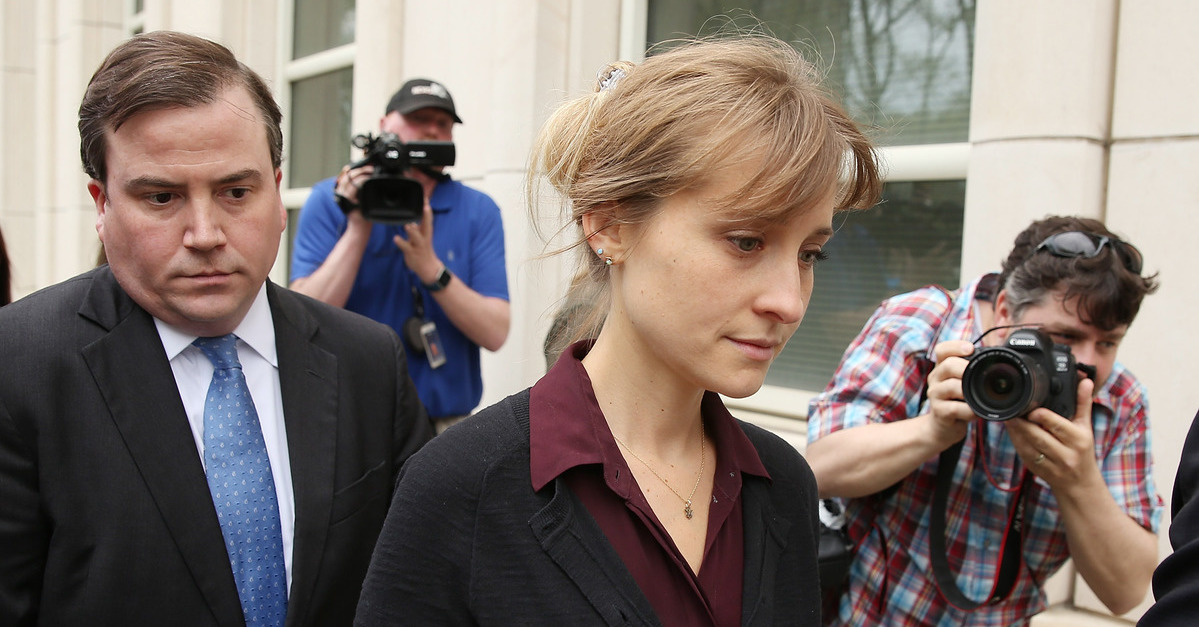 Somebody save her?
Former Smallville actress Allison Mack pleaded guilty to racketeering and racketeering conspiracy charges (RICO) in a Brooklyn federal court on Monday after originally being indicted for sex trafficking, sex trafficking conspiracy, and forced labor conspiracy. According to federal prosecutors, Mack served as aide-de-camp to alleged NXIVM [pr: nex-ee-um] sex cult leader Keith Raniere. In exercising her duties, Mack allegedly recruited several women to be slaves in the organization where they were allegedly forced to have sex with Raniere and perform labor under threat of extortion.
On Monday, however, Mack admitted to receiving "labor and services" from two alleged female slaves she oversaw on Raniere's behalf. Additionally, Mack admitted to engaging in a conspiracy to commit the above federal crime. What she didn't plead guilty to were the sex trafficking and sex trafficking conspiracy charges in the indictment. This could loom large when it comes to the length of her prison stint.
Several former members of NXIVM, which publicly fashions itself as a female empowerment program, have come forward to allege stories of sexual initiation rituals and being forcibly branded with both Raniere's and Mack's initials while part of the latter's "slave pod."
"As alleged in the indictment, Allison Mack recruited women to join what was purported to be a female mentorship group that was, in fact, created and led by Keith Raniere," said U.S. Attorney for the Eastern District of New York Richard P. Donoghue in a press release announcing the actress' charges. "The victims were then exploited, both sexually and for their labor, to the defendants' benefit."
Mack initally pleaded not guilty to the charges–with Raniere's defense attorney arguing, "these were consenting adults who knew what they were doing and approved of it." And while it's presently unclear if Mack is now cooperating with prosecutors, her story at least, has changed.
"Through it all, I believed Keith Raniere's intentions were to help people. I was wrong," a teary-eyed Mack told the court. "I must take full responsibility for my conduct and that is why I am pleading guilty today. I am and will be a better person as a result of this."
So, how long does Mack face in prison?
Codified at 18 U.S.C. §1962(a), the law on point here reads, in relevant part:
It shall be unlawful for any person who has received any income derived, directly or indirectly, from a pattern of racketeering activity or through collection of an unlawful debt in which such person has participated as a principal…to use or invest, directly or indirectly, any part of such income, or the proceeds of such income, in acquisition of any interest in, or the establishment or operation of, any enterprise which is engaged in, or the activities of which affect, interstate or foreign commerce.
Each of the two counts to which she pleaded guilty on Monday carries a maximum sentence of up to 20 years in prison. But a maximum sentence of 40 years isn't likely in a high profile case like this–especially not with a deep-pocketed defendant like Mack.
Trial lawyer Page Pate told Law&Crime that it looks like Mack has gotten a "very good deal" if there was clear evidence to support the sex trafficking charges that were alleged in the indictment.
"RICO sentencing guidelines are also mostly based on the amount of money involved in the case whereas the sex trafficking guidelines have numerous and often draconian enhancements," Pate explained. "The bottom line is this is a very good deal for her if there was sufficient evidence to support the sex trafficking charges. Perhaps there wasn't, and that's why she was allowed to plea to the lesser charges."
Law&Crime Network host and former New Jersey prosecutor Bob Bianchi also provided some clarity on the situation. Bianchi explained that "there are a lot of variables at play with this sentencing" and noted the mandatory maximum was only technically a possibility.
"She will get a downward departure for 'acceptance of responsibility' and is presumably a first offender, low offender category," Bianchi noted. "She may be cooperating with the [prosecution] which could also lower her sentence."
But Bianchi said there also factors which definitely don't bode well for Mack:
When the judge evaluates the "relevant conduct" of this case they will see the sex offenses as an upward departure, even though she did not plea specifically to the sex crimes. The upward relevant conduct is not good for her. Many victims, serious harm, extortive conduct, and length of time conduct was occurring all inure to her detriment.
"As a defense attorney, I would be very concerned of a lengthy sentence given the seriousness of the harm caused, and her role in victimizing these women," Bianchi added.
There may, however, be a way for Mack to downplay her own admitted role in the alleged sexual slavery scheme.
"The defense will undoubtedly attempt to off set the above by stating that in a sense she was a victim too–brainwashed to a point she didn't know what she was doing was wrong, or appreciate the seriousness of the harm she was doing," Bianchi said. "Depending on facts of the case, that may, or may not, mitigate her punishment."
Ultimately, of course, it's up to the court.
"The judge will balance all of these, and many other relevant conduct factors, to give a sentence they feel is appropriate," Bianchi concluded.
Mack's sentencing hearing is scheduled for Sept. 11, 2019.
[image via Jemal Countess/Getty Images)
Have a tip we should know? [email protected]