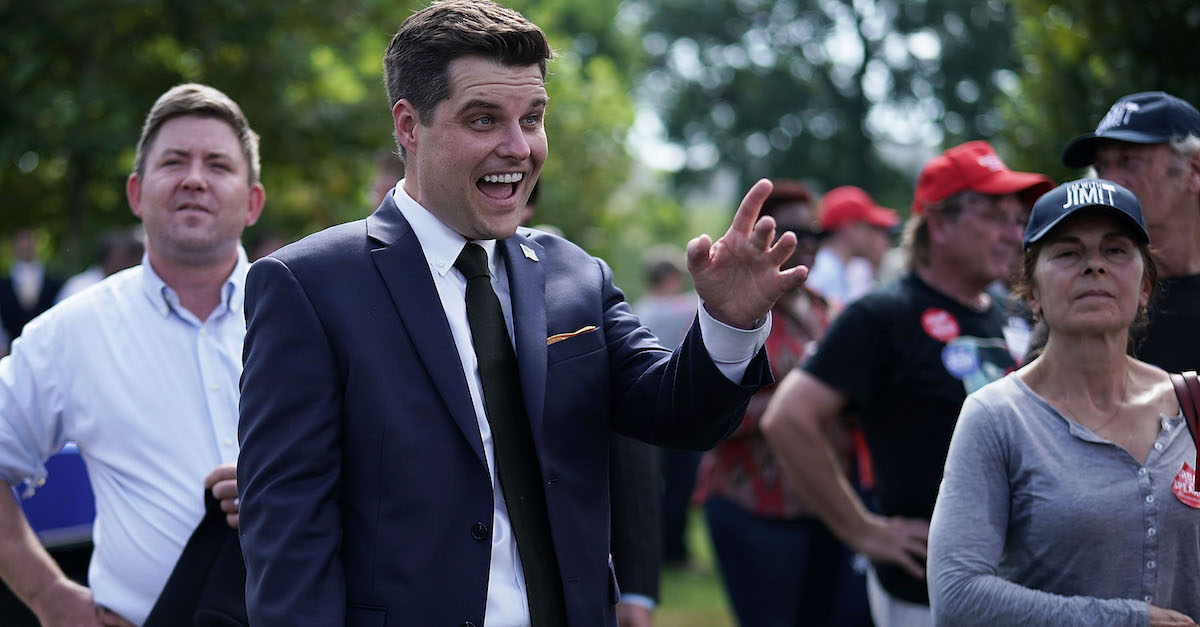 Michael Cohen, on the eve of scheduled testimony before Congress that Cohen had previously postponed due to "threats," has been @-ed on Twitter by a sitting Republican U.S. congressman, who warned Cohen that some embarrassing allegations of cheating might come out in more detail and ruin his relationship with his wife and father-in-law.
Rep. Matt Gaetz (R-Fla.), self-described as a "Florida man proudly serving the First District in Congress" and described by President Donald Trump as a "machine" who is "handsome and going places," took to Twitter Tuesday afternoon to say the following:
"Hey @MichaelCohen212 – Do your wife & father-in-law know about your girlfriends? Maybe tonight would be a good time for that chat. I wonder if she'll remain faithful when you're in prison," he said. "She's about to learn a lot."
If it reads like a threat to you, you are not alone, as many have immediately drawn the conclusion that this was witness tampering.
Gaetz already responded to the witness tampering outcry by telling Vox's Alex Ward that he was "witness testing."
"We still are allowed to test the veracity and character of witnesses, I think," he added, saying that he disagreed with the idea that he had tampered with a witness. These responses came after Gaetz said to prepare for "fireworks" on Wednesday.
Attorneys disagree that this was mere "witness testing." Two statutes that immediately caught everyone's attention are 18 U.S. Code § 1505 and 18 U.S. Code § 1512.
The first deals with "Obstruction of proceedings before departments, agencies, and committees." The law on point states:
Whoever corruptly, or by threats or force, or by any threatening letter or communication influences, obstructs, or impedes or endeavors to influence, obstruct, or impede the due and proper administration of the law under which any pending proceeding is being had before any department or agency of the United States, or the due and proper exercise of the power of inquiry under which any inquiry or investigation is being had by either House, or any committee of either House or any joint committee of the Congress—

Shall be fined under this title, imprisoned not more than 5 years or, if the offense involves international or domestic terrorism (as defined in section 2331), imprisoned not more than 8 years, or both.
Next up is the statute dealing with "Tampering with a witness, victim, or an informant":
Whoever knowingly uses intimidation, threatens, or corruptly persuades another person, or attempts to do so, or engages in misleading conduct toward another person, with intent to—
(1) influence, delay, or prevent the testimony of any person in an official proceeding;
(2) cause or induce any person to—
(A) withhold testimony, or withhold a record, document, or other object, from an official proceeding;
Law&Crime asked former federal prosecutor Renato Mariotti about whether Gaetz's tweet violated these laws and he said, "It sure looks like it."
National security Bradley P. Moss also told Law&Crime that it seemed to him to be "a rather straightforward criminal act."
"Whether DOJ wants to test the separation of powers and go after a sitting Member of Congress here is anyone's guess," he said.
CNN legal analyst and attorney Ross Garber disagreed, calling this tweet "distasteful" but not "criminal."
Distasteful, yes. Criminal, no. Congressman @mattgaetz is a part of a branch of government conducting an investigation in which credibility matters. If an FBI agent can make these kinds of comments in a criminal investigation, Gaetz can make them in a Congressional inquiry.

— Ross Garber (@rossgarber) February 26, 2019
The mention of Cohen's father-in-law, if you recall, has been somewhat frequent. Both President Trump and his attorney Rudy Giuliani have done it.
"[Cohen] should give information maybe on his father-in-law, because that's the one that people want to look at," Trump said during a January 12 interview on Fox News. "Because where does that money–that's the money in the family. And I guess he didn't want to talk about his father-in-law–he's trying to get his sentence reduced. So it's pretty sad. It's weak and it's very sad to watch a thing like that."
That wasn't the only time Trump mentioned Cohen's father-in-law. Giuliani, for his part, told CNN's Jake Tapper that Cohen's "father-in-law was—he may have ties to something called organized crime."
Cohen attorney Lanny Davis said the following in a statement to Law&Crime:
We will not respond to Mr. Gaetz's despicable lies and personal smears, except to say we trust that his colleagues in the House, both Republicans and Democrats, will repudiate his words and his conduct.

I also trust that his constituents will not appreciate that their congressman has set a new low — which in today's political culture is hard to imagine as possible.
Gaetz later apologized.
[Image via Alex Wong/Getty Images]
Have a tip we should know? [email protected]