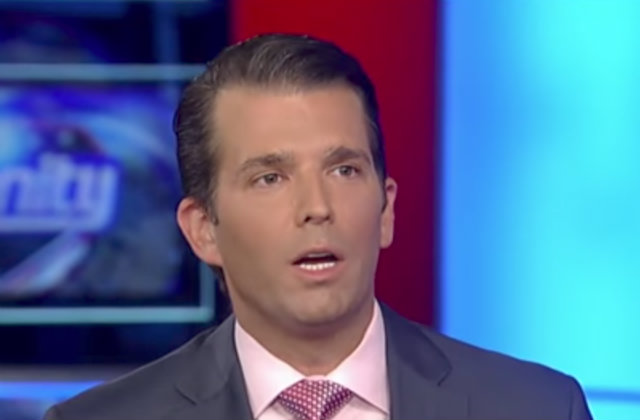 Donald Trump Jr. maintained a 10-month correspondence with WikiLeaks during the election. Is that illegal? Based on what we know, probably not, at least when it comes to campaign finance law.
By now, you've probably heard all about The Atlantic bombshell report. The outlet got their hands on messages Jr's lawyer handed over to congressional investigators in the probe into Russian interference. From the article:
Though Trump Jr. mostly ignored the frequent messages from WikiLeaks, he at times appears to have acted on its requests. When WikiLeaks first reached out to Trump Jr. about putintrump.org, for instance, Trump Jr. followed up on his promise to "ask around." According to a source familiar with the congressional investigations into Russian interference with the 2016 campaign, who requested anonymity because the investigation is ongoing, on the same day that Trump Jr. received the first message from WikiLeaks, he emailed other senior officials with the Trump campaign, including Steve Bannon, Kellyanne Conway, Brad Parscale, and Trump son-in-law Jared Kushner, telling them WikiLeaks had made contact. Kushner then forwarded the email to campaign communications staffer Hope Hicks. At no point during the 10-month correspondence does Trump Jr. rebuff WikiLeaks, which had published stolen documents and was already observed to be releasing information that benefited Russian interests.
In a report unclassified in January, U.S. intelligence officials said that Russia funneled hacked information to WikiLeaks for publication, all to help Trump Sr. become president.
The group had published emails that hackers, who were allegedly directed by the Russian government, stole from the account of Hillary Clinton's campaign chair John Podesta.
This article already caught the eye of Norm Eisen, the chair of Citizens for Responsibility and Ethics in Washington, a legal group that has butted heads with the Trump administration in the past.
this is a bombshell @juliaioffe — proof of collusion https://t.co/BalcRAvo2j

— Norm Eisen (@NormEisen) November 13, 2017
this is a BFD https://t.co/rotcQKp9AI

— Norm Eisen (@NormEisen) November 13, 2017
But is any of this illegal? It's one thing to make ethically questionable contact with a third-party during campaign season. It's another thing to violate the letter of the law.
Law&Crime reached out to Paul S. Ryan for his take on whether The Atlantic report described criminal activity. He's the Vice President of Policy & Litigation at Common Cause, a watchdog group.
Ryan approached these revelations from a campaign finance law perspective. When reading The Atlantic piece, he said he kept an eye out for evidence that Trump Jr. asked for something of value from a foreign national, receiving something of value from a foreign national, or advised WikiLeaks on how they could spend resources.
"I didn't see strong evidence of any of that going on," he said. Ryan even downplayed the detail that WikiLeaks DM'd Trump Jr. the website password for a yet-to-premiere anti-Trump PAC. He argued that this password "doesn't scream to me that it is of obvious or significant value," and he pointed out that there are no reports of the campaign doing anything with this.
All in all, he called this "small potatoes" in terms of campaign finance law, at least when compared to another Trump Jr. controversy: the June 2016 meeting with a Russian lawyer to get dirt on Hillary Clinton. Ryan said that this did strike him as "illicit" because Jr., a campaign surrogate from Trump Sr., sought out a thing of value from a foreign national.
To be sure, Ryan doesn't dismiss the import of The Atlantic article. He said it shows that "how the Trump campaign was in fact in conversation with foreign nationals." Ryan also pointed out that a Trump Jr. WikiLeaks tweet came on the same day that then-Vice Presidential candidate Mike Pence publicly denied the campaign's connection to WikiLeaks. He doubted that the VP wouldn't have known anything about the correspondence.
"It's looking like Mike Pence wasn't speaking truthfully," Ryan said.
For Professor Rick Hasen, an election law expert at the University of California, Irvine, a certain detail stood out: That WikiLeaks urged the campaign on election day to reject the results as rigged.
"During the election many of us were very concerned that Trump would not concede if he lost, something which would be very dangerous for American democracy," he told Law&Crime. "Learning that a foreign agent with ties to Russia was urging Trump to take that course is quite disconcerting."
Jr.s lawyer Alan Futerfas downplayed the import of the correspondence.
"Over the last several months, we have worked cooperatively with each of the committees and have voluntarily turned over thousands of documents in response to their requests," he said, according to The Atlantic. "Putting aside the question as to why or by whom such documents, provided to Congress under promises of confidentiality, have been selectively leaked, we can say with confidence that we have no concerns about these documents and any questions raised about them have been easily answered in the appropriate forum."
In a tweet, Wikileak's Julian Assange said he "cannot confirm the alleged DM's" between his group and Trump Jr. He said the group does not keep these kinds of records, and argued that The Atlantic did not provide the full context of these messages.
The president has repeatedly called the allegations that his campaign colluded with Russia a "witch hunt" by Democrats.
[Screengrab via Fox News]
Have a tip we should know? [email protected]