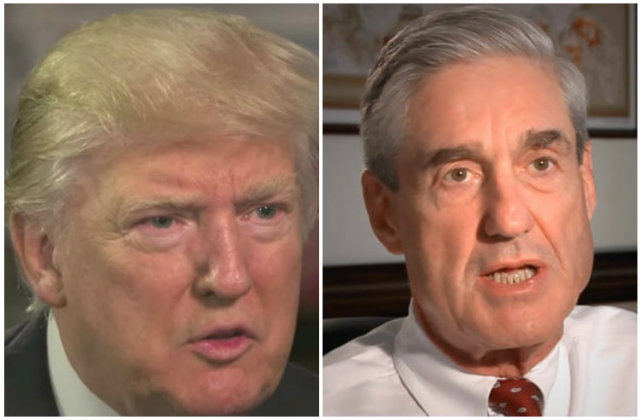 Donald Trump's messages to Robert Mueller are not only unusual, but could be the basis of an obstruction of justice accusation. Jimmy Gurulé, a law professor at Notre Dame University and a former U.S. Assistant Attorney General under the first president Bush, told LawNewz.com that the messages leave the president vulnerable, legally speaking, because these could be construed as intimidation.
Trump chief counsel John Dowd told USA TODAY on Tuesday that POTUS "appreciates what Bob Mueller is doing. He asked me to share that with him and that's what I've done." Dowd described the messages as showing "appreciation and greetings," and that messages were sent "back and forth."
Bad idea.
Gurulé said that anything Trump tells him could be used against him in the Russia collusion investigation. Also, the messages themselves could be construed as an attempt to influence the probe.
"'I'm watching you.' How else could it be interpreted?" Gurulé said. ' Thank you for conducting an investigation into my campaign. Thank you for conducting an investigation into my son and my son-in-law.'"
If nothing else, this sort of thing leaves the president vulnerable.
"I can't imagine he would do it again, and if so, he does it at his legal peril," Gurulé said.
Joe Conason, the editor-in-chief at The National Memo, has also suggested this could play into an obstruction case against the president.
"You know and I do that the obstruction case is being built," he told MSNBC Chief Legal Correspondent Ari Melber in a panel Tuesday evening. "This is all part of the context of that case."
George Washington University Law Professor Jonathan Turley has a different take on this.
"Curiouser and curiouser," he told LawNewz.com. "It is not common for a potential target to convey such words of appreciation, however, nothing about this commonplace. There appears to be an concerted effort to dampen down the rumors that Trump was considering a termination of Mueller."
Nonetheless, he wasn't convinced about a hypothetical obstruction allegation: "If sending 'appreciation and greetings' is potential criminal intimidation, Hallmark executives are virtual serial killers."
Mueller is investigating the Trump campaign for alleged collusion with the Russian government during the 2016 election. The president has repeatedly, publicly called the Special Counsel's probe a "witch hunt" pushed by Democrats.
LawNewz.com has predicted that Trump will soon terminate Mueller.
The president has draw criticism before for allegedly speaking with investigators. FBI Director James Comey claims the president asked him in February to drop a federal investigation into National Security Adviser Michael Flynn. In March, Comey revealed that the feds were investigating Russia collusion efforts. Trump fired Comey in May, ostensibly for doing a bad job.
Critics have accused Trump of obstruction of justice for allegedly telling Comey to drop the Flynn investigation, and for firing him during the Kremlin probe.
Correction – An earlier version of this article incorrectly stated these were texts. The USA TODAY article, however, did not specify what kinds of messages these were.
[Screengrab via ABC]
Have a tip we should know? [email protected]