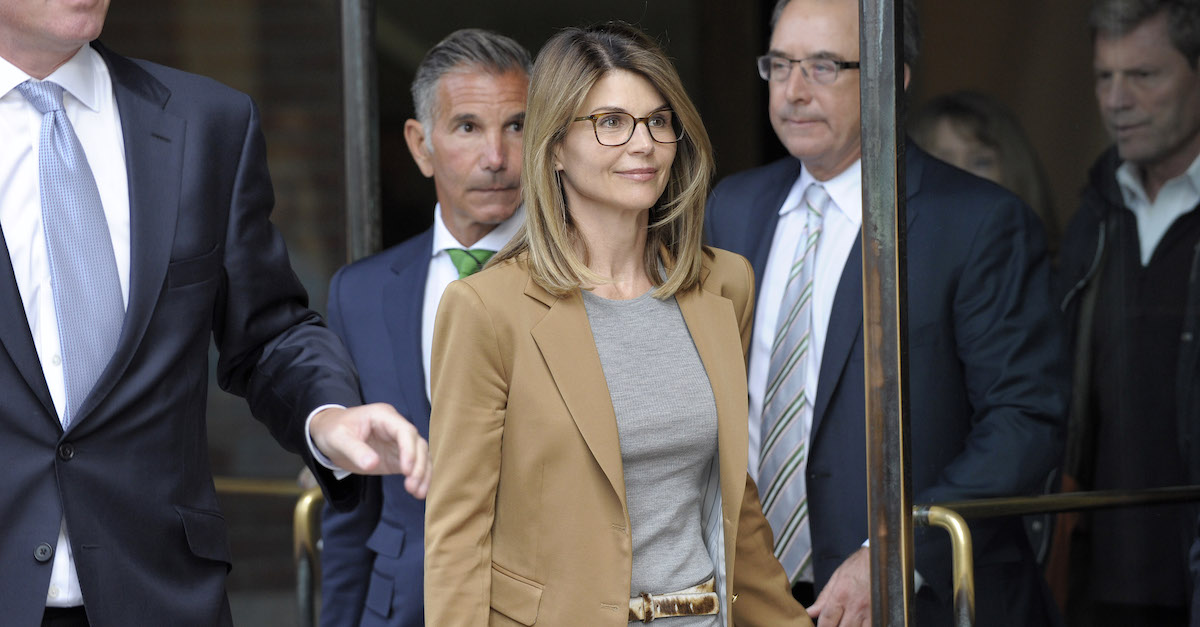 It seems Full House actress Lori Loughlin and her fashion designer husband Mossimo Giannulli are "playing with fire" by pleading not guilty, rather than following in the footsteps of other parents charged in the nationwide college admissions scandal.
In case you missed it, Loughlin and Giannulli have decided to plead not guilty to charges of conspiracy to commit fraud and conspiracy to commit money laundering, charges that carry a maximum penalty of 40 years upon conviction. They allegedly created fake rowing profiles to get their daughters Isabella and Olivia into USC and "agreed to pay bribes totaling $500,000 in exchange for having their two daughters designated as recruits to the [University of Southern California (USC)] crew team–despite the fact that they did not participate in crew."
While the maximum simply isn't going to happen, Law&Crime Network host, criminal defense attorney, and former New Jersey prosecutor Bob Bianchi told Law&Crime that the couple is still in serious legal peril and are taking a big risk by neglecting to take full responsibility.
"I think Ms. Loughlin and her husband are playing with fire. From what we know, the facts underlying these charges is rather strong, and include audio taped conversations that are damming to the defendants," Bianchi said, before contrasting Loughlin/Giannulli's strategy with the strategy of other defendants — even famous parents like fellow actress Felicity Huffman.
Huffman pleaded guilty early, apologized to her daughter, and apologized to all Americans.
"I am ashamed of the pain I have caused my daughter, my family, my friends, my colleagues and the educational community. I want to apologize to them and, especially, I want to apologize to the students who work hard every day to get into college, and to their parents who make tremendous sacrifices to support their children and do so honestly," Huffman said in her public statement. "My daughter knew absolutely nothing about my actions, and in my misguided and profoundly wrong way, I have betrayed her. This transgression toward her and the public I will carry for the rest of my life. My desire to help my daughter is no excuse to break the law or engage in dishonesty."
A key difference in the Huffman and Loughlin/Giannulli cases is the amount of money allegedly involved. With Huffman, we're talking about $15,000; with Loughlin and Giannulli, it's at $500,000. That difference in dollars is the difference in the severity of offense. Any way you slice it, Loughlin/Giannulli are charged with more serious crimes, which is why "ratcheting up prison exposure" by pleading not guilty is problematic, Bianchi said.
"Unlike Ms. Huffman, Ms. Loughlin by not accepting responsibility early, is ratcheting up her prison exposure. Under recent DOJ guideline changes, a defendant is now required to plead guilty to the 'highest, most readily provable offense,'" Bianchi said. "The more the government secures additional serious charges in the grand jury, the more serious her exposure is. So, if she wants to later work the case out by way of plea, this alone will make that plea far more harsh than if she had accepted responsibility earlier."
"As a criminal defense attorney, you only do this if you seriously feel that the facts are insufficient for conviction. But buyer beware! You better be right, because if you are not, you will have a much longer time in prison to regret not taking a far kinder plea offer in the beginning of the case," he added.
Trial lawyer Page Pate told Law&Crime that although the not guilty plea was "expected," Loughlin and Giannulli may end up with a worse deal at the end of this.
"It's clear she thinks the government's plea offer was not as good as she wanted. While there are times when a plea offer can get better the closer a defendant gets to trial, I don't think that will be the case here," he said. "It's possible, perhaps likely, she will end up with a worse outcome than had she accepted the government's initial offer. I don't think any of the parents are getting an especially good deal, but it's probably better than they would get if they decided to go to trial."
Editor's note: this article was updated after publication with comment from Pate.
[Image via Joseph Prezioso/AFP/Getty Images]
Have a tip we should know? [email protected]