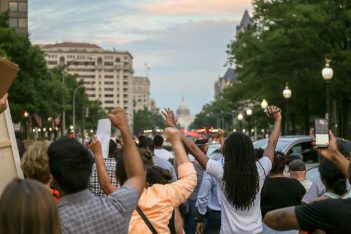 Several legal organizations have stepped forward to offer free legal representation to anyone who gets arrested protesting Donald Trump's inauguration on Friday.
According to lawyers with the Partnership for Civil Justice, the National Lawyers Guild, D.C. Law Students in Court and other organizations have come together, providing monitors of police conduct and free representation for anyone who gets arrested during a protest on Friday.
The Partnership for Civil Justice says they are concerned that D.C. police might try to crackdown on protesters this Friday, denying people their constitutional right to exercise free speech and protest.
"Tens of thousands of people are answering the call to resist the incoming administration at inaugural protests next weekend. As always, the NLG is mobilizing its dedicated team of radical lawyers, legal workers, and law students, to provide the critical legal support infrastructure needed for such large scale demonstrations," Maggie-Ellinger Locke, an NLG official, said in a statement.
The group is concerned that as a designated National Special Security Event, law enforcement agencies from multiple jurisdictions, including the military, might be emboldened to arrest large numbers of protesters.
However, the group is hopeful that the agencies will take notice of recent court decisions that prohibit police from arresting protesters for holding marches without a permit.
There are massive security operations underway in the lead up to the election and over 7,500 National Guardsmen from across the country will be deployed on inauguration day.
The Reporters Committee for Freedom of the Press also announced on Wednesday that it will offer legal assistance hotline to reporters covering the election.
[image via Joseph Gruber/Shutterstock]
Have a tip we should know? [email protected]