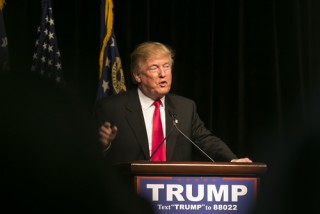 Jury selection is currently scheduled to begin on November 28 in the trial of Low v. Trump University, one of the cases that has been brought against President-elect Donald Trump for his now-defunct real estate classes. Trump and Trump University are being sued for alleged fraud regarding what was promised to those who enrolled in the classes. But with Trump now preparing to take office on January 20, 2017, his attorneys have filed a request to push the case off until after the inauguration.
"The 69 days until inauguration are critical and all-consuming," Trump's lawyers wrote in their court filing. "President-Elect Trump must receive daily security briefings, make executive appointments (ultimately, thousands), and establish relationships with appointees, members of Congress, governors, and foreign leaders. He must also develop important policy priorities." Due to those duties, Trump argues that he should not have to deal with the distraction of a civil trial. "Now that the election is over, we submit that the President-Elect should not be required to stand trial during the next two months while he prepares to assume the Presidency."
Additionally, Trump is asking for the opportunity to record his testimony in advance, so as not to have to fit a trial appearance into his busy schedule. He asks that if the court permits this, for the recording to be made available in the related Cohen v. Trump case. If not, however, the court filing says that Trump will be available to the court in January after his inauguration.
The request also cites the Supreme Court's belief, as stated in Clinton v. Jones, that courts should grant deference to the Presidency when scheduling court proceedings. If the case gets moved to after the inauguration, it remains to be seen whether Trump would use this same argument to claim that the case should be put off until his entire presidency is over. That was the argument that Bill Clinton made in the Jones case. While the Court acknowledged that deference to the office is appropriate, they did not put Clinton's case on hold.
[Image via Shutterstock]
Have a tip we should know? [email protected]