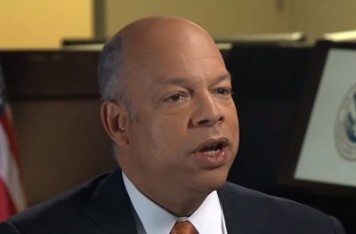 Documents obtained in a Freedom of Information Act (FOIA) lawsuit have revealed that Hillary Clinton may not have been the only top Obama administration official to use non-government email addresses.  According to documents obtained by the government watch dog group Judicial Watch, three top Department of Homeland Security officials, including DHS Secretary Jeh Johnson, private, web-based email addresses to conduct sensitive official government business.
"It is ironic and disconcerting that Secretary Johnson and his aides touted Homeland Security's great 'strides in cybersecurity' while using unsecured, private, web-based email accounts that the Department had officially prohibited," Judicial Watch President Tom Fitton said in a statement obtained by LawNewz. "The fact that the documents found in these email accounts were so heavily redacted and that Johnson's name and email account were spoofed in a phishing scam is indicative of just how lax communications security was inside Homeland Security during the Obama administration."
A review of the more than 216 documents released on Monday appear to show that Secretary Johnson, Deputy Secretary Alejandro Mayorkas, DHS Chief of Staff Christian Marrone and DHS General Counsel Stevan Bunnell all used personal, non-government emails to conduct official government business.  A few of the major revelations from this document production show that the Kuwaiti Ambassador to the U.S. emailed Johnson on his non-government email address to set up a meeting between Johnson and Kuwaits Interior Minister.  The same email also shows a discussion of the Kuwaiti Interior Minister having discussions with heads of the CIA and FBI.
Additional emails show similar discussions about meetings between Johnson and the Saudi Interior Minister during a trip to Jeddah, Saudi Arabia.
Emails belonging to DHS Chief of Staff Marrone also appear to show that he kept financial information related to a sensitive program between Boeing and Lockheed Martin involving a space vehicle program on his personal, non-government email account.
There is also evidence that an unidentified individual attempted to spoof Johnson's email in what appears to be a targeted "phishing scam" that asked others to provide additional private information in return for a piece of a "abandoned fund" worth at least $4.5 million in West Africa.
According to Judicial Watch, the discovery of these emails raises questions about why officials used personal email accounts for government business despite an agency-wide ban on such use due to security concerns.  Additionally, the watch dog group claims the emails call into question whether DHS officials mislead members of Congress who asked about the use of private email accounts for official government business. We've reach out to Jeh Johnson for comment on this story, and will update accordingly.
[image via screengrab]
Have a tip we should know? [email protected]