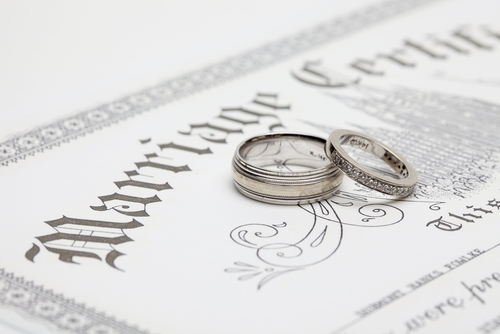 Yanicka Parker, a Florida woman, was a longtime employee of the Broward County Clerk of Courts. She worked there for 12 years until she says she was suddenly fired when she told her bosses she wouldn't issue marriage licenses to same sex couples.  She's has now filed a federal lawsuit against Howard C. Forman, the Clerk of Courts for the Seventeenth Judicial Circuit in Broward County, Florida.  In the lawsuit, she says she has "sincerely held religious beliefs in which she believes it is a sin for persons of same sex to engage in sexual relations. "
In early January 2015, shortly after her office was instructed to start issuing same sex marriage licenses, Parker asked if she could be accommodated so that she could perform her "job duties without having to issue marriage licenses to same sex couple or perform marriage ceremony for same sex couples." Parker contends shortly after she asked for the accommodation she was terminated because of her request. She said that there were six other clerks in the office who were perfectly capable and willing to issue the licenses.
"Issuing marriage licenses to same sex couples was a miniscule part of the clerk's job and overall responsibilities, and Ms. Parker was willing and able to perform all other aspects of her job, Defendant Forman could have easily accommodated her religious beliefs," the complaint reads.
Parker accuses the County of violating Title VII of the Civil Rights Act of 1964 which prohibits discrimination on the basis of religion.
According to the Equal Employment Opportunity Commission, federal law requires "employers to reasonably accommodate the religious beliefs and practices of applicants and  employees,  unless  doing so would  cause more than a minimal burden on the operation of the employer's business.A reasonable religious accommodation is any adjustment to the work environment that will allow the employee to practice his religion."
Parker is seeking damages  as well ask an injunction stopping the county from engaging in discriminatory policies. The court docket indicates the County has not responded. LawNew.com also reached out for comment.
[image via shutterstock]
Have a tip we should know? [email protected]
Rachel Stockman - President / On Air Host