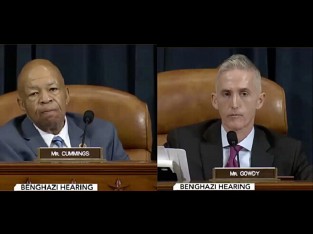 With members from both sides of the House Select Committee on Benghazi throwing barbs back-and-forth lately, an important issue has become lost in all that noise.  It involves a political appointee working at the Department of Defense (DoD) and allegations that the U.S. Department of Defense is working in concert with Democratic members to stonewall efforts by the Select Committee to question important witnesses.
With how partisan merely the word "Benghazi" has become over the past few years, I was skeptical about some of the claims that came to our attention as they appeared on the committee's website and in the press over the past few months.
So, I decided to investigate further and what was uncovered is pretty shocking.
This essentially begins back in February when Select Committee Chairman Trey Gowdy sent a letter to DoD and requested to interview several active-duty military personnel that were involved with the 2012 Benghazi incident. According to Republican members of the committee, the Department of Defense did not comply with much of that request for several months.
In the meantime, Assistant Secretary for Defense for Legislative Affairs Stephen Hedger sent the Committee a letter on April 28 that noted DoD's concern with the time and cost associated with tracking down various personnel. But, what is particularly interesting is that DoD felt it unnecessary to locate some of the requested personnel.
"Congress has as much of an obligation as the Executive Branch to use federal resources and taxpayer dollars effectively and efficiently. The Department has spent millions of dollars on Benghazi-specific Congressional compliance…," the letter stated. The DoD also appeared to have completely stonewalled the Committee's request to interview a service member who claimed on Facebook page that he had been a mechanic at an air base in Europe on the night of the attack. That mechanic alleged that planes at his base could have been deployed to Benghazi in time to make a difference.
"The Department maintains that locating these types of individuals is not necessary since such claims are easily dismissed by any one of the multiple high-level military officials already interviewed," Hedger wrote in the DoD's letter.
After receiving this letter, Chairman Gowdy claimed that the Democrats and the DoD were trying to stonewall the Select Committees efforts to question witnesses. Chairman Gowdy appears to have good reason for his concern. In early June, a drone operator finally testified before the Select Committee and provided some valuable new information  The drone operator's testimony called into question much of what has been said by Democrats and Hedger in his letter.
While the testimony was classified, Chairman Gowdy was able to provide the following summary (it is worth noting that Democrats have not objected to this characterization of the testimony, to date):
This drone sensor operator confirmed details the committee learned at the same time DOD was claiming it was "expend[ing] significant resources to locate" him – the Air Force knew exactly who had called into the talk radio show in 2013. In other words, John's testimony raises serious questions with respect to the representations made by a Pentagon political appointee. It now appears DOD had knowledge well in advance of who and where John was, but claimed he could not be located anyway. They claimed "significant resources" had been spent attempting to find him, but given the facts, it's hard to imagine just how much incompetence would be required for that to be true.
Leading up to this June 9th testimony, Democratic members of the Select Committee appeared to rally around the "Hedger Letter" with Ranking Member Elijah Cummings and Rep. Adam Smith making public references to Select Committee's burdensome costs to DoD mentioned in the "Hedger Letter."   Democratic Members even appeared to support efforts by House Democrats to force an accounting of all the money spent by DoD on Benghazi within 30 days.
Steven Hedger, the DoD official who wrote the controversial letter, has now been subpoenaed by the Select Committee.
"This Pentagon political appointee claimed in an official letter to the committee the Department of Defense could not find a requested witness, despite expending 'significant resources' searching for him. This witness is still on active duty and confirmed Thursday the Air Force knew exactly who he was – a drone sensor operator who was operating over Benghazi on the night of the attacks," Chairman Gowdy said in a statement following the subpoena announcement.
Democrats have not said publicly whether they will support Hedger's testifying.  Although, they risk appearing somewhat hypocritical if they do object, given their very public campaign about the "excessive costs" incurred by DoD as a result of the Select Committee.
And speaking of stonewalling, there is another witness the committee members would like to speak to who first came to the Committee's and public's attention through a Facebook post.  He was also specifically mentioned in the "Hedger Letter" as someone DoD did not feel was necessary to locate and produce before the committee.  We will refer to him as the "crew chief."
So, Lawnewz.com reached out to DoD spokeswoman Laura Seal and asked her multiple times if DoD has specifically agreed to make this "crew chief" individual available and/or agreed to produce him for questioning by the Select Committee.
Seal would only respond by saying, "The Department continues to make personnel available for interviews as requested by the Committee. We have always — and will continue to — comply with the Committee's requests."
However, a source at the Select Committee confirmed to LawNewz.com that the DoD has still not agreed to produce the "crew chief" for questioning.
This seems at odds with Seal's statement to us and her prior statement to Politico on June 10 also saying they were cooperating, especially when coupled with Undersecretary for Defense Hedger's statement that DoD believes producing this individual is unnecessary.
Despite all the alleged stonewalling, the Select Committee has still managed to interview over 100 witnesses, including at least 81 who had never before been questioned by Congress.
LawNewz.com also reached out to the spokesman for the Democratic members of the Select Committee but did not hear back by press time.  We will update this story accordingly if we receive a response.
Have a tip we should know? [email protected]