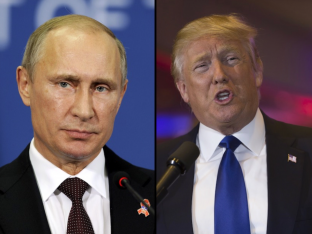 A group of ten electors to the Electoral College wrote a letter to the Director of National Intelligence, James Clapper, requesting full intelligence briefing on any alleged ties between President-elect Donald Trump and Russian leader Vladimir Putin.  This effort is receiving a great deal of attention in the political world, especially among those who are hoping it may finally be the way to stop Trump from taking the White House in January.  Legal experts tell LawNewz.com it will be tough for the electors to get what they are seeking.  However, there is a way that it could possibly happen, but it involves an often arduous process of receiving an interim security clearance. A process that President Obama could even help expedite, if he wanted to.
We'll explain more below. But first, to recap today's events, the request came in the form of an open letter posted to Medium late Monday morning.  The letter was authored by Christine Pelosi (the daughter of Congresswoman Nancy Pelosi ) who is also an elector representing California at the Electoral College on December 19, and purports to be a bi-partisan effort.
"Trump's willingness to disregard conclusions made by the intelligence community and his continuing defense of Russia and Russian President Vladimir Putin demand close scrutiny and deliberation from the Electoral College," they write.
The group then states what they believe is necessary and required in order to properly conduct their duties:
The Electors require to know from the intelligence community whether there are ongoing investigations into ties between Donald Trump, his campaign or associates, and Russian government interference in the election, the scope of those investigations, how far those investigations may have reached, and who was involved in those investigations. We further require a briefing on all investigative findings, as these matters directly impact the core factors in our deliberations of whether Mr. Trump is fit to serve as President of the United States.

Additionally, the Electors will separately require from Donald Trump conclusive evidence that he and his staff and advisors did not accept Russian interference, or otherwise collaborate during the campaign, and conclusive disavowal and repudiation of such collaboration and interference going forward.
Hours after these requests were first published, Hillary Clinton's campaign threw its weight behind the effort, a move that essentially ensures this issue will remain a hot topic in political circles for days to come.
For that reason, LawNewz.com consulted experts in election and national security law in order to provide our readers with an assessment of whether this latest wrinkle in what has been a crazy 2016 presidential election has the potential to change the outcome.
First, lets address the second paragraph of the group's request direct towards Trump.  It is unclear what power Electors have to force a president-elect to do anything. Ohio State law professor Edward Foley, an expert in election law, told LawNewz.com there is nothing in the Constitution empowering Electors with any special privileges to make demands of the president-elect.
Moreover, as a practical matter, these ten Electors never had any intention of casting votes for Donald Trump to begin with — nine of the letter co-signers are pledged to cast votes for the Democratic nominee, Hillary Clinton. Furthermore, Trump's projected Electoral College vote total is in excess of 300 votes — even if the Republican Elector from Texas, Christopher Suprun, follows through on his promise to not cast his ballot for Trump.
In essence, these 10 Electors not only appear to lack the authority to make demands of President-elect Trump, they also seem to lack any sort of leverage to perhaps force Trump into making some type of voluntary concession in order to win over their vote.
Now, lets turn to the Electors' requests in the first paragraph to have the intelligence community provide a full intelligence briefing prior to December 19.  This request potentially raises far more interesting legal questions.
LawNewz.com first reached out to the Office of the Director of National Intelligence to ask how they planned to address this request, but a spokesman declined to comment on the matter.
The Electors are likely to receive the same response to their request from the ODNI as we did.  The intelligence community, much the same as law enforcement agencies, rarely comment about the existence of potential investigations and holding the status of "Elector"seemingly does not provide one with the power to request an intelligence briefing, according to Prof. Foley.
"There is no precedent for this type of request in any of my studies of presidential elections," Foley explained.
He added that the role of an Elector is similar to that of a citizen when asked to serve on jury duty, in the sense that both positions are basically short term government assignments.
However, there is one caveat that could give electors access to this information, as explained by national security law expert Dakota S. Rudesill, who also teaches at the Moritz College of Law at Ohio State University.
He told us:
[A]s a general national security matter, elected government officials who do not normally get classified information – and that would include electors – and even private sector actors can be granted interim security clearances and then access to particular classified information.  It happens with some regularity in other contexts, such as law enforcement or intelligence matters involving multiple levels of government.  The Director of National Intelligence (DNI) is a key actor in that interim security clearance process, and potentially so too would be the President.  That is because as a matter of law and practice the Executive Branch's classification authority and control over classified information inside the executive branch ultimately reside with the President, and the DNI is the central subordinate figure regarding both classification and intelligence matters.
So ultimately the Director of National Intelligence and the President would have to be on board with this plan. However, it is important to remember that this process can take a long time.  Since we are just days away from when the Electoral College is scheduled to meet on December 19, it is not likely to happen in time. But with this election, you can never say never.  And that brings us to one final possibility in which President Obama, utilizing his authority under Article II of the Constitution bypasses the need for interim security clearances by declassifying certain information to provide Electors with something like an unclassified summary report.  In that case, the American public would have access to the material as well.
If the president decides not to take the extraordinary steps necessary to satisfy the request of the Electors and they are denied a briefing, they would still have the option to challenge the denial in court.
[image via shutterstock]
Editor's Note: This article has been updated to include more information about national security law, and to include the possibility that the electors could receive interim security clearance, which was not noted in the original version of this article. 
Have a tip we should know? [email protected]