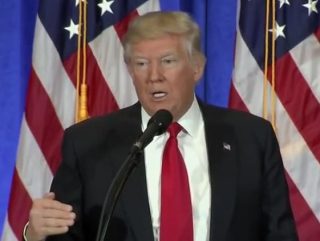 On Friday, the White House released a letter from President Donald Trump's tax lawyers claiming that Trump's tax returns from the past 10 years didn't reveal connections to Russia, "with a few exceptions." The letter was written back in March by Sheri Dillon and William Nelson from the law firm Morgan, Lewis & Bockius.
Using the services of that firm makes sense for Trump, as Morgan Lewis is a world-renowned organization. In fact, just last year, Chambers and Partners rated them as the top firm in a certain country, and guess which one it is.
Did you guess Russia? You probably guessed Russia.
It's Russia.
According to a press release on Morgan Lewis' website from May 2016, the firm was given the honors in the 2016 Chambers Europe guide to law firms. The title is awarded based on a firm's "client service, preeminence in the relevant market, notable achievements over the past 12 months, outstanding work, and impressive strategic growth."
The firm's Moscow office provides services for litigation, real estate transactions, international arbitration, mergers and acquisitions, as well as corporate and finance matters. It has more than 40 lawyers and staff on hand and opened in 2012.
[Image via ABC News screengrab]
Have a tip we should know? [email protected]