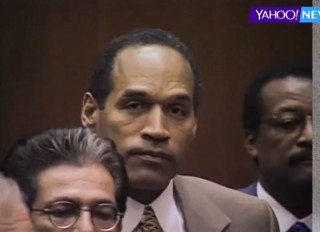 The LAPD held a press conference Friday morning to address recent reports about a bloody knife discovered at the California property of OJ Simpson.  Police say they are investigating a story that a construction worker found the weapon while Simpson's Rockingham estate was being demolished years ago. The worker reportedly turned it over to an off-duty police officer who kept it a secret until about a month ago. The motor division officer was reportedly working a movie job at the time.
"This whole story could be bogus from the get go," LAPD Capt. Andrew Neiman told reporters.
The knife has been turned over for further forensic testing including DNA and hair sampling. "We need to determine if this is evidence, and we need to prove one way or the other if it is," Capt. Neiman said.
Police say it is way too early to determine any connection to the 1994 murders of Nicole Brown Simpson and her friend Ron Goldman. Police say the double homicide is still considered an open case. If police were to link the case to OJ Simpson, he could not be prosecuted because of double jeopardy. OJ Simpson was acquitted of murder charges back in 1995. Police never found a murder weapon.  His former attorney Carl Douglas told the Los Angeles Times that he thought the story was "ridiculous." The timing of the discovery is also interesting because of a renewed focus following the release of the FX series "The People v. OJ Simpson: An American Crime Story."  A former detective on the case remarked that there have been several weapons turned over to LAPD over the years that had no connection to the case.
[Screengrab via Yahoo News]
Have a tip we should know? [email protected]
Rachel Stockman - President / On Air Host