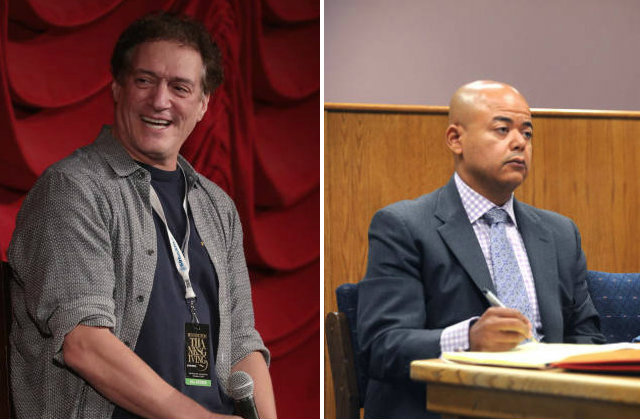 If you know anything about radio show host Anthony Cumia and OJ Simpson's lawyer Malcolm LaVergne, then you know that these two were probably made for each other. They recently got into a Twitter spat over a "call to action threat" against Simpson's life.
This fight started Tuesday night. News broke that Fred Goldman, who won a wrongful death lawsuit over the murders of Ron Goldman and Nicole Brown-Simpson, failed Tuesday in a bid to collect money in the multi-million dollar judgement. Cumia had some choice words about this.
At this point Fred Goldman might have to consider "alternative methods" of payment. https://t.co/nRPUw75edi

— Anthony Cumia (@AnthonyCumiaxyz) January 31, 2018
That sounded like "call to action threat" to LaVergne. He called Cumia out on Twitter.
I do not like the veiled inference in your remark, as evidenced by the comments that followed. The statement is a call to action threat. I respectfully request that you delete the comment. Thank you. Malcolm.

— Malcolm LaVergne (@SinCityAttorney) January 31, 2018
Cumia's reply, made Wednesday afternoon: "Haha, hilarious."
You've no doubt guessed this argument will go in a bad direction, but we'll review it anyway.
"I looked you up, Mr. Cumia," LaVernge said. "Haven't you had issues with losing your career to Twitter before? Now you're in the media abyss with that other SiriusXM flunky junkie Artie Lange. Again, please kindly delete the threatening call to action tweet. Thank you in advance. Malcolm."
And boy, has Cumia had Twitter issues before. He made his name on the Opie and Anthony show, but SiriusXM fired him for a racist Twitter rant. He apparently got into a confrontation with a black woman in Times Square. Cumia claimed she punched him, and he tweeted that she was an "animal bitch" and "savage." "She's lucky I was a white legal gun owner or she'd be dead," he wrote from this now-suspended account. "Then 5 blacks started giving me shit!"
As for his argument with LaVernge, he told the Simpson attorney to "Kindly piss off."
"I'd be happy to, Mr. Cumia, but you made a call to action threat toward my client Mr. Simpson," LaVergne said Wednesday. "I've asked you to delete the tweet, and your responses indicate that you have nothing to lose: no career, no money, and no reputation. If you did, you'd comply with a simple request. M."
That's when Cumia made no secret about what he hopes happens to OJ Simpson.
I'm not complying to your request because I don't back down from pieces of shit vultures like yourself.
Also, yes, I hope Fred Goldman dispatches OJ like the parasite he is.
Clear enough Johnny Cockring? https://t.co/JM013sWQJL

— Anthony Cumia (@AnthonyCumiaxyz) January 31, 2018
You get the idea. This thing really just goes on and on and on.
The exchange was an uncharacteristically restrained display from LaVergne, who once called Florida Attorney General Pam Bondi a "stupid bitch," and who, as recently as Wednesday, called the Goldman family the "Greedy Goldmans."
[Image of Cumia, left, via Cindy Ord and Getty Images for SiriusXM; LaVergne via Jason Bean-Pool and Getty Images]
Have a tip we should know? [email protected]