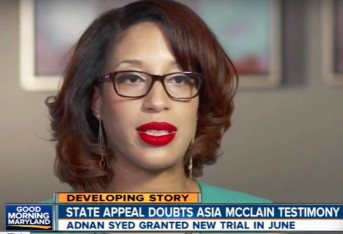 A witness involved in the Adnan Syed case, made famous by the podcast Serial, is fighting back after two former Woodlawn Senior High School students reportedly questioned her credibility.
As LawNewz.com reported on Tuesday,the sworn statements were provided by two former students (who are sisters) to the Maryland Attorney General's Office.  The sworn affidavits accuse McClain of stating she would "make up a lie" to help Syed's case.  The two affiants alleged McClain made the statement because of what they reportedly described as her (McCain's) strong brief in Syed's innocence.
On Thursday, McClain responded to the new reports in a post on her personal blog.
"I first met the two sisters at Woodlawn Senior High School and until most recently, have had nothing but positive, friendly exchanges and conversations with them, McClain wrote in her blog statement.  "In addition, over the last several years I have remained Facebook "friends" with them, us all sharing many personal posts and photos with one another on a regular basis."
For a majority of the blog post, McClain provides her own recollection of the alleged events involving the two sisters/witnesses over the past several years.
READ MCCLAIN'S FULL STATEMENT HERE.  
In conclusion, McCain writes, "It has been with great dismay that I read these entirely false allegations from these two sisters and it is with great sadness that I am now forced to question the true purpose and motivations behind these awful and untrue allegations."
"I have never wavered in my recollection of the events surrounding the murder of Ms. Lee," McClain continues.
"I also did not consent to any on camera interviews prior to testifying in the Circuit Court of Baltimore City, because I felt it was important that what I knew to be first heard and evaluated by a judge, not the court of public opinion," she adds.
McClain then accuses thr Maryland prosecutors of failing to take her up on here multiple offers to meet with her to discuss what she knows about the case.
Rather than meet with her, McClain says prosecutors, "[C]hoose to publish these hurtful untruths without giving me a chance to contextualize the allegations and demonstrate their falsity."
Finally, she calls on the prosecution to explain "why they have never had time to meet with [her], but will gladly take the opportunity to meet with, publish, and lend credence to my detractors."
McClain also calls on "the public to continue to scrutinize these types of practices" if they are truly in "a search for the truth."
While many Serial fans have the perception that McClain's alibi testimony played a large role in why Syed's conviction was overturned, it is important to remember that the post conviction judge ultimately based his decision on evidence related to cellphone towers.
Have a tip we should know? [email protected]