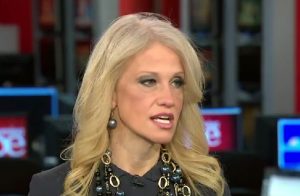 A source close to the matter has confirmed to LawNewz.com that Kellyanne Conway's husband, George Conway, met with Trump's incoming Attorney General Jeff Sessions about a potential top position at the U.S. Department of Justice. Conway is being considered for the role of solicitor general.  In this powerful position, Conway would be the top defender of the federal government in front of the U.S. Supreme Court. Sources tell us he would take the job if offered. After all, he's expected to move to Washington D.C. shortly so that his wife, Kellyanne, can assume her role as counselor to President-elect Donald Trump. However, her husband has come under criticism because he lacks extensive Supreme Court experience.  The position is currently occupied by Ian Heath Gershengorn who previously served as Principal Deputy Solicitor General since 2013.
George Conway is probably best known for working on Paula Jones' sexual harassment case against Bill Clinton in the 1990's. The landmark case, which ultimately was heard by the U.S. Supreme Court in 1997, established that a sitting U.S. President does not have immunity from civil lawsuits against him/her for acts unrelated to the office. Interestingly, this very subject came up earlier this year with Donald Trump who could be caught up in as many as 75 lawsuits as President. In 2009, Conway did argue a case before the Supreme Court involving the Securities Exchange Act of 1934.
"He would be an exceptional choice.  I've worked extensively with him and his depth of knowledge of the Supreme Court and its precedents, his temperament, judgment, collegiality and writing are all outstanding.  He is a very experienced and talented appellate lawyer and his is experience with oral arguments before the Supreme Court is on par with other Solicitor Generals," said Lisa Blatt, an attorney for Arnold & Palmer, who served in the Solicitor General's Office for 13 years under six different solicitor generals.
Though Conway doesn't have extensive experience arguing before the U.S. Supreme Court, he has authored some amicus briefs on behalf of organizations such as the U.S. Chamber of Commerce. Conway has been a partner at the high profile law firm, Wachtell, Lipton, Rosen & Katz, since 1994.  He attended the Yale Law School, and clerked for Honorable Ralph K. Winter, Jr., United States Court of Appeals, Second Circuit.
[image via screengrab]
Have a tip we should know? [email protected]
Rachel Stockman - President / On Air Host