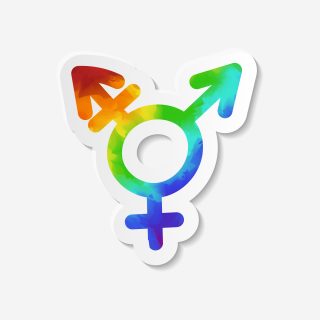 This week, New York City made it clear that in the Big Apple, it's 2017 and the city will conduct itself accordingly. NYC issued the first-ever intersex birth certificate to Sara Kelly Keenan, age 55. And before Pat McCrory starts going ballistic, I will point out that Sara Kelly Keenan is not a transgender person. She's an intersex person – and the difference is far more than semantic.
Sara, born to an unwed mother and given up for adoption at birth, was initially classified as a boy at birth. She stayed in the hospital for three weeks following her birth, before being transferred into foster care for the next five months. Because Sara's records were sealed as part of her adoption, and later, were unavailable due to a hospital fire, she has never been able to confirm whether she underwent genital surgery during those first three weeks. Sara was ultimately adopted and raised as a girl. After thirty years of feeling uncomfortable in her body, Sara consulted doctors and confirmed what she'd always felt – that she didn't fit squarely within the definition of either gender.
Test results results proved that Sara is genetically male, but with female genitalia and mixed internal reproductive anatomy. So the choices "male" or "female" just don't quite work. Thus, the birth certificate issue isn't one of tolerance. It is an issue of accuracy. Birth certificates are important documents for a variety of reasons, not the least of which is that they are the very first concrete proof of legal recognition bestowed on an individual by a government. Legally and culturally, Americans put a great deal of emphasis on birth certificates – a reality often demonstrated in paternity disputes. NYC's decision to re-issue Sara a birth certificate which correctly classifies her as "intersex" indicates the city's commitment to having its official documentation reflect truth, even when that truth requires some nuance.
"Intersex" is a non-medical general term for a person whose anatomy does not fit the typical definitions of "male" or "female." The term does not describe a person who has a gender identity different from his or her anatomy, but rather, accurately describes a group of non-binary anatomical conditions. New York City's decision to adopt "intersex" as gender possibility on its official documentation is an important statement on our progress as a society. When Sara Kelly Keenan was born, standard protocol would have dictated immediate surgery and unending secrecy. But in 2017, our attitudes have changed dramatically with regard to both gender and medicine, and New York's corresponding public statement is commendable.
This is an opinion piece. The views expressed in this article are those of just the author.
Elura Nanos - CEO, Lawyer Up; Columnist & Host, Law & Crime