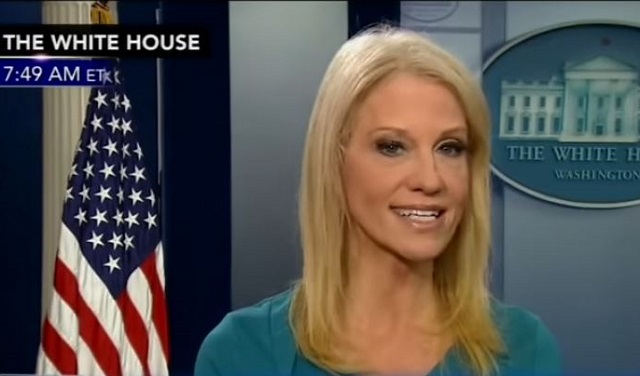 Kellyanne Conway may be part of the Trump administration, often having to take the president's side, even in difficult situations. Her husband, attorney George Conway, is a different story. Tuesday morning, President Donald Trump appeared to address the FBI's recent raid of his attorney Michael Cohen's office, only for Mr. C to respond with a troll job of epic proportions.
The feds reportedly seized communications between Trump and Cohen, leading the president to comment, "Attorney-client privilege is dead!" Indeed, it is a big deal for law enforcement to go through attorney-client communications.
Attorney–client privilege is dead!

— Donald J. Trump (@realDonaldTrump) April 10, 2018
Soon after Trump dropped that tweet, George Conway retweeted without comment, simply including a link. More specifically, a link to an explanation of when it's okay for officials to search a lawyer's office. Even more specifically, it's an explanation in the U.S. Attorneys' manual from Trump's own Justice Department.
https://t.co/uT1LETu3Oz https://t.co/KafkKu1jYB

— George Conway (@gtconway3d) April 10, 2018
The manual states:
There are occasions when effective law enforcement may require the issuance of a search warrant for the premises of an attorney who is a subject of an investigation, and who also is or may be engaged in the practice of law on behalf of clients.
It goes on to detail the great care that officials must use in these cases for the purpose of protecting attorney-client privilege as much as possible. For instance, a federal prosecutor needs to consult with the DOJ's Criminal Division and get approval from a U.S. Attorney or Assistant Attorney General before even applying for a search warrant.
On top of that, officials must take measures "to ensure that privileged materials are not improperly viewed, seized or retained during the course of the search," and that privileged materials must be returned. A special "privilege team" should also be appointed to go through the materials so that they investigators in the case don't see anything they're not supposed to.
Basically, Conway is not so subtly telling Trump that attorney-client privilege is not dead, rather it's alive and well, only to be pierced in extreme situations, like the one Cohen is apparently in.
[Image via Fox News screengrab]
Have a tip we should know? [email protected]