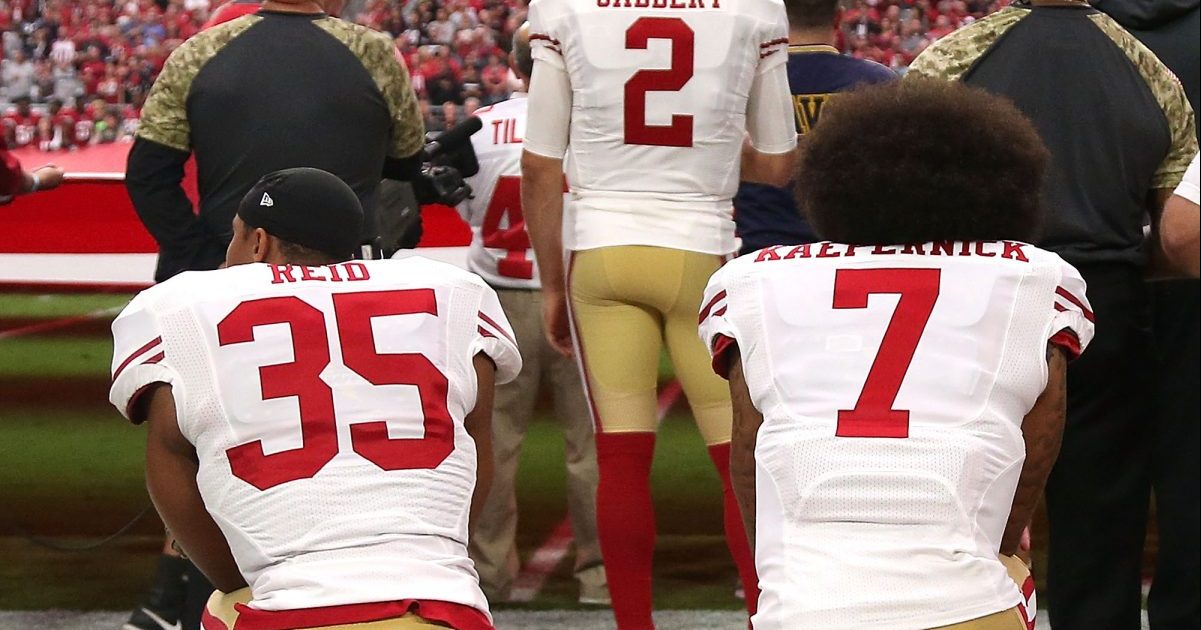 Colin Kaepernick, the former San Francisco 49ers quarterback whose infamous protests of police brutality and inequality during the national anthem started a movement within the National Football League, allegedly has plans with his legal team to force President Donald Trump, Vice President Mike Pence, and other officials in Kaepernick's collusion case against the NFL, sources told Yahoo.
Kaepernick alleges that the NFL colluded against him due to his 2016 protesting, as no team has signed him to a new contract since he became a free agent. Several team owners have testified that President Trump's influence caused Kaepernick to not be hired onto their team. Kaepernick and his attorneys are attempting to prove a direct correlation between President Trump's influence and the NFL's decision making process, pertaining to player protests.
President Trump has an extensive record when it comes to Kaepernick's case, from his original comments on Kaepernick during the 2016 presidential campaign to talking about teams supposedly being afraid to hire him due to Trump's potential reaction, to calling for every kneeling player to be fired. Kaepernick's legal team may use these cases to establish a causal relationship between Trump's comments and Kaepernick's employment.
"The only reason — and the owners will admit that — they haven't signed him is they're afraid of Trump, and they've colluded because of Trump," Kaepernick's attorney Mark Geragos said. Law&Crime reached out to Geragos for additional comment.
As many team owners are being deposed by Kaepernick for statements they had made regarding him or the sideline protests as a whole, new information on the alleged collusion has begun to surface. 
Further, Mark Geragos believes that the NFL 's new national anthem policy only benefits Kaepernick's case. This new policy, which forces players to stand for the Star Spangled Banner or remain in the locker room for it, will fine teams whose players violate the policy. Players may also be subject to discipline both on a team and a league level if they kneel on the field during the anthem.
"This substantiates everything we have thought all along and just proves that they colluded," Geragos said.
Geragos even went as far to tweet that he and Kaepernick were "Winning!" and included a link to 18 U.S. Code § 227, which prohibits current members of Congress, or employees of the legislative and executive branches from influencing a private businesses employment decisions.
Winning! https://t.co/qTUh3LJNxR

— Mark Geragos (@markgeragos) May 24, 2018
[Image via Chris Coduto/Getty Images]
Have a tip we should know? [email protected]