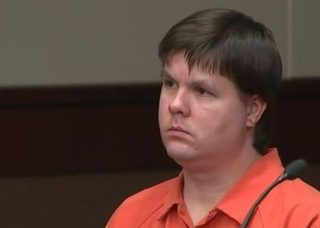 Judge Mary Staley Clark announced on Monday the sentence for Justin Ross Harris, who was convicted last month of murdering his 22-month-old son Cooper by leaving him in a hot car to die. At an afternoon hearing, the judge sentenced Harris to life plus an additional 32 years in prison without parole.
WATCH VIDEO:
The trial lasted several weeks, and it took the jury another week to reach a decision. Both sides presented strong cases. The defense poked holes in the prosecution's evidence that Harris' online history showed that he planned to kill his son, and they had Harris' ex-wife Leanna Taylor testify in his defense. Taylor said she never wanted to see Harris again after the trial, and that he ruined her life, yet she did not believe he meant to kill their son. Employees from Cooper's daycare — where Harris was supposed to take Cooper the day he died — described Harris as a friendly, involved parent.
However, the prosecution successfully portrayed Harris as someone who could not be trusted. They called woman after woman to testify regarding the affairs that Harris had with them while he was still married to Leanna. Witnesses who saw Harris' reaction to Cooper's death expressed doubt over his sincerity. Harris had pulled his car over after leaving work, acting as if he had just noticed his dead son in his car seat, yelling and crying about how his son was dead. However, multiple people who were at the scene felt that he was putting on an act, and Harris never called for help. Video of Harris from his police interview also showed him go from wailing and crying one moment to being chatty and calm the next. Even Harris' reaction to the verdict was questionable. Upon hearing that the jury found him guilty of malice murder, Harris stood stoically, with little change in expression.
On top of that, prosecutors showed the jury Harris' car, and a 3D rendering of the inside of the vehicle with the car seat, showing how difficult it would have been for Harris to not notice that his son was in the car when he went to work, or when he returned to the vehicle mid-day to drop off light bulbs that he purchased.
In addition to murder, Harris was convicted of cruelty to children for intentionally leaving Cooper in the car, where he suffered before dying. He was also found guilty of sending sexual images to a minor and soliciting sexual images from the underage child. The girl, who testified anonymously despite now being over 18, described her relationship with Harris to the jury. She also told the court how Harris knew she was in high school at the time that he sent her a picture of his genitals and asked her to do the same.
The lengthy trial was drawn out even longer than originally anticipated, due to a difficulty in finding impartial jurors. Jury selection originally began in Cobb County, Georgia — where Cooper's death occurred — back in April, but so many potential jurors had heard about the case from the media and had formed strong opinions on the matter. As a result, the case moved to Brunswick, Georgia and jury selection began anew in September, with the trial starting in October. Now, in December, the trial is over, and Harris has learned his fate.
During sentencing, Judge Clark gave Harris the opportunity to present mitigating evidence, but he declined to do so. The judge stated that other than not having any prior criminal record, there was no mitigating evidence. She noted that during Harris' conversation with police after his son's death, he expressed a desire to become an advocate to prevent similar occurrences from taking place in the future. Judge Clark stated to him, "I would say, perhaps not how you have intended, that you have in fact accomplished that goal."
Have a tip we should know? [email protected]