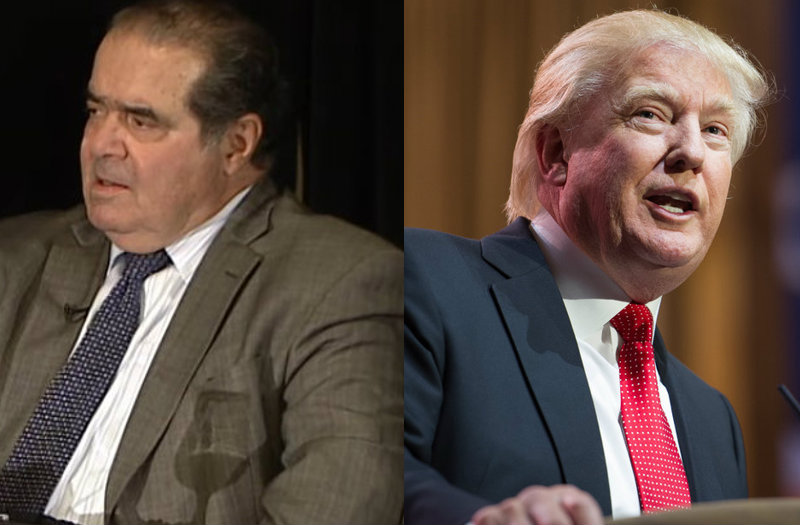 Late Supreme Court Justice Antonin Scalia was somewhat enamored by Donald Trump's presidential run, according to one of Scalia's longtime friends.
Texas-based author Bryan Garner recently spoke with the Wall Street Journal to publicize a forthcoming memoir of his ten-year friendship with Scalia. During that interview, Garner shared the news about Scalia's fondness for Trump. He said:
Justice Scalia thought it was most refreshing to have a candidate who was pretty much unfiltered and utterly frank.
Scalia was also apparently a big fan of Wisconsin Governor Scott Walker's ill-fated presidential run, though he seemed to prefer Trump's tendency toward bombast and eschewing the script. Garner said, "[H]e was fascinated by the fact that Trump was so outspoken in an unfiltered way, and therefore we were seeing something a little more genuine than a candidate whose every utterance is airbrushed."
Scalia's death caused the late justice to play an unusually outsized role in the 2016 presidential campaign. His passing prompted Trump to famously promise that he would nominate a replacement "very much in the mold of Justice Scalia."
Some caution was added into the discussion, however, as Garner is keen to protect his friend's legacy and the idea that Justice Scalia was a full-on, raging Trump acolyte. He said, "These [were] early days in the campaign. It shouldn't be looked at through the lens of everything that's happened since."
Garner was with Scalia just before his unexpected death in Texas in February 2016. Scalia and Garner had just spent two weeks traveling through various Asian countries. The editor of an oft-used legal dictionary, Garner and Scalia ultimately became friends through the intervention of yet another late writer of some renown, novelist David Foster Wallace.
And, after that introduction, the libertarian-leaning Texas dictionary editor and well-fed arch-conservative Justice bonded over their shared love for all things lexicological.
Garner's memoir, "Nino and Me: My Unusual Friendship with Justice Antonin Scalia," will be released by Simon & Schuster tomorrow.
[image via screengrab/Hoover Institute and Christopher Halloran/Shutterstock.com]
Follow Colin Kalmbacher on Twitter: @colinkalmbacher
Have a tip we should know? [email protected]