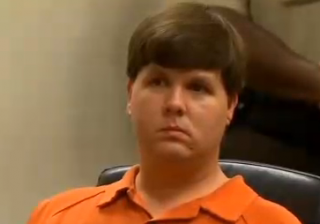 Earlier this year, the murder trial of Justin Ross Harris was supposed to begin in Cobb County, Georgia. Harris is accused of intentionally leaving his 22-month-old son Cooper in a car while he was at work, resulting in the child's death. The case has had widespread media coverage, which made it difficult to find impartial jurors in Cobb County. So Judge Mary Staley Clark agreed to move the case to Brunswick, Georgia. Jury selection begins anew on Monday.
Ross Harris sits quietly in courtroom as jury selection begins. @FOX5Atlanta pic.twitter.com/vbMGIz3riF

— Claire Simms (@Claire_FOX5) September 12, 2016
In addition to being accused of murder, Harris — who was married at the time — has been accused of exchanging sexual messages and pictures to multiple women, at least one of whom was allegedly under the age of 18. He has been charged with multiple counts of sexual exploitation of minors, in addition to the charges related to Cooper's death.
If Harris is convicted of murder, he could face up to life in prison.
Have a tip we should know? [email protected]