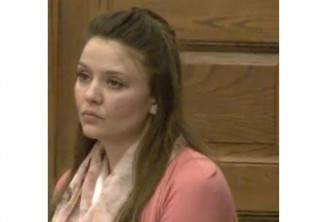 Judge Chryssa Hartnett gave instructions to the jury as the murder trial of Colleen McKernan neared its conclusion. After the jury heard details of the legal standards applicable in the case, both sides gave stirring closing arguments.
The prosecution went first, arguing that McKernan's claim that she acted in self-defense when she shot her husband Rob just didn't line up with the evidence. Attorney Dennis Barr portrayed McKernan as an "angry, intoxicated Air Force security officer," instead of the battered woman that the defense claimed she was. Barr forcefully told the jury that McKernan was an aggressor who had been physical with her husband in the past. He also argued that the pattern of blood that was found on Rob's body was not consistent with the defense's story that Colleen shot him in the face first, then his body.
WATCH HERE FOR LEGAL ANALYSIS ON CLOSING ARGUMENTS: 
Defense attorney Laura Mills dismissed the notion that the blood worked against her case, and she said photos from the crime scene back her up. Mills focused on McKernan's accounts of alleged past abuse that she suffered from her husband, painting a picture of a woman who defended herself from a man who had attacked her before.
Barr got one last chance to sway the jury to his side, and played video of McKernan in jail, angrily shouting that she had told her husband that if he touched her she would kill him. Barr used this to argue that McKernan was not upset about her husband's death.
The jury is now deliberating, and the court awaits their decision. This is McKernan's second trial, as the first one ended in a hung jury, with seven jurors believing she is guilty. If the jury convicts McKernan this time, she will face a sentence of between 15 years and life in prison.
The verdict could come as early as Thursday morning. LawNewz.com will be streaming live video here.
Have a tip we should know? [email protected]