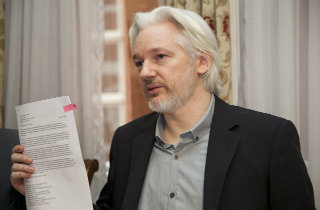 Wikileaks founder Julian Assange is apparently optimistic about a Donald Trump presidency's direct implications for his future. Assange has been locked down in London's Ecuadorian Embassy since 2012 thanks to two intertwined criminal investigations, though he's been charged in neither:
Sweden attempting to extradite him over asexual assault allegations against him stemming from allegations by two different women in 2010.
The possibility that the United States could then extradite him in connection with Wikileaks publishing classified documents leaked by Chelsea Manning.
On Wednesday, Assange's lawyers told the Evening Standard that things may be looking up for him. They're now hoping to plead his case to the incoming Trump administration.
"During that time we have repeatedly called for the investigation to be closed on the grounds it violates the First Amendment , and places a chill on freedom of speech and reporting," said Assange's lawyer, Jennifer Robinson. "Through US counsel, we had reached out to the Obama administration, most recently just a few months ago, and we will continue to do so with future US administrations until the investigation is closed."
As for the sexual assault investigation, Robinson told the Standard that "It is important to remember that he has never been charged and has already been cleared once by the previous prosecutor." She added that "We hope and expect that the prosecutor will come to the same conclusion." Until he's sure of what the future holds for him on both fronts, though, Assange likely isn't moving from the small room that has been his entire life for four years.
[Photo: Wikimedia Commons]
Have a tip we should know? [email protected]