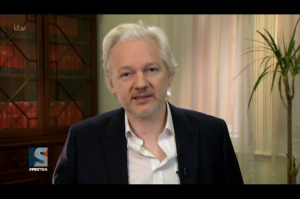 During an interview with NBC's Richard Engel, Julian Assange said that "there is no proof whatsoever" that Russian intelligence sources are responsible for hacking thousands of Democratic National Committee emails. The emails were posted by WikiLeaks over the weekend. The FBI is investigating the hack.  Three cybersecurity experts told the DNC that the emails were hacked by Russian intelligence.
'There is no proof of that whatsoever. We have not disclosed our source, and of course, this is a diversion that's being pushed by the Hillary Clinton campaign.  That's a meta-story. The real story is what these emails contain and they show collusion. The very top of the Democratic party, Debbie Wasserman Schultz, is now being forced to resign,"Assange said during the interview.
"And other people from the party, which is meant to be neutral, subverting the process in order to make sure Hillary Clinton won the campaign," he added.
Assange is the editor-in-chief of WikiLeaks, an organization which was founded in 2006. The DNC has come under fire after thousands of emails were released over the weekend that appear to show a concerted effort by DNC officials to undermine Bernie Sanders' campaign in order to get Hillary Clinton elected.  In a statement this afternoon, the DNC apologized for the "inexcusable remarks" made over email.
JUST IN: DNC apologizes to @BernieSanders and Democratic Party over remarks revealed in DNC email hack: pic.twitter.com/dNas3dZUD0

— ABC News Politics (@ABCPolitics) July 25, 2016
More of the interview with Julian Assange will air on NBC Nightly News with Lester Holt.
Have a tip we should know? [email protected]lawandcrime.com
Rachel Stockman - President / On Air Host