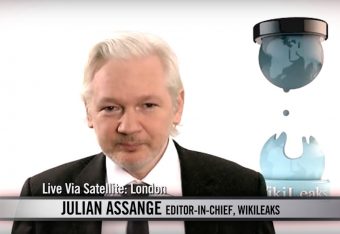 Swedish prosecutors reportedly interviewed Julian Assange on Monday about rape allegations leveled against the Wikileaks founder in 2010.
The interview with Assange potentially marks a major breakthrough in the investigation that has been underway for a number of years.  Assange took refuge in the Ecuadorian Embassy in London approximately four years ago to avoid extradition to Sweden and there has been an ongoing fight to question him ever since.
Swedish authorities have said they needed to question Assange before making a determination of whether to proceed with rape charges.  The statute of limitations has expired on the remaining charges Assange initially faced.
Assange has always denied any wrongdoing, but he refused to go to Sweden out of fear that he may then be extradited to the United States to face charges over the leak of State Department cables and other sensitive U.S. government documents.
According to Reuters, the agreement between Sweden and Ecuador allowed Swedish Chief Prosecutor Ingrid Isgren to enter the Ecuadorian Embassy and ask Assange questions through an Ecuadorian prosecutor.
The Ecuadorian prosecutor will then provide Assange's responses to the Swedish investigative team who will ultimately make a decision on whether to go forward with charges.  Assange's Swedish defense attorney told reporters he was denied entry inside the embassy during the questioning. However, Assange reportedly also had an Ecuadorian defense lawyer who was allowed to be present during questioning.
Isgren reportedly spent four hours inside the embassy on Monday, but did not respond to requests for comment from reporters about what transpired inside.
There has not been any official comment from Assange following Monday's questioning.
[image via screengrab]
Have a tip we should know? [email protected]