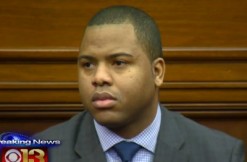 Maryland judges have finally explained why Officer William Porter gets partial immunity from his testimony in the trials of other Baltimore cops charged in the death of Freddie Gray. They said Porter is protected by the U.S. Constitution and Maryland law, so he doesn't need to worry about incriminating himself.
"For purposes of a witness's entitlement to invoke the privilege against compulsory self-incrimination, Article 22 of the Maryland Declaration of Rights is interpreted as in pari materia with the Fifth Amendment," judges from the Maryland Court of Appeals wrote in an opinion published Friday. "Because use and derivative use immunity sufficiently protects a witness's Fifth Amendment privilege, it likewise protects a witness's privilege under the State constitution."
On April 12, 2015, Baltimore man Freddie Gray sustained fatal injuries while riding in the back of a police van after his arrest. Besides van-driver Porter, the other officers charged in his death: Officer Caesar Goodson, Officer Garrett Miller, Officer Edward Nero, Lieutenant Brian Rice, and Sergeant Alicia White.
Prosecutors brought Porter to trial first, but jurors deadlocked in December, resulting in a retrial. This created a huge problem, as he was expected to testify in the other cops' trials. Cue all sorts of legal struggling, and delays. In March, the Maryland Court of Appeals said Porter had to take the witness stand, but hadn't spelled out how partially immunity would work in his case.
His next trial is scheduled for September. He faces the most serious charge among the officers, second-degree depraved heart murder.
–
Follow Alberto Luperon on Twitter (@Alberto Luperon)
Have a tip we should know? [email protected]