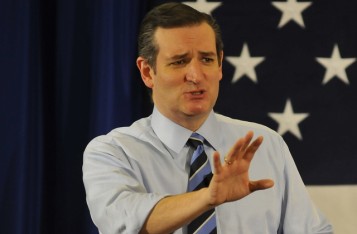 An Illinois appeals court will review on Friday whether Republican presidential candidate Ted Cruz qualifies to be on the ballot amid concerns he is eligible to be president. The lawsuit in question, filed by pharmacist and attorney Lawrence Joyce, claims the Texas Senator shouldn't even be running because he was born in Canada and therefore he is not a "natural born citizen." If Joyce is successful, then Cruz will get struck off the ballot for the Illinois Republican primary, scheduled for March 15.
The U.S. Constitution requires the president to be a "natural born Citizen." Joyce, a Republican who worries a Cruz nomination would open the party to similar legal challenges by the Democrats, interprets that as meaning that one must be born on American soil to qualify.
In response to Donald Trump's threat of issuing a similar suit, Cruz said that kind of reasoning was wrong.
"The child of a U.S. citizen born abroad is a natural born citizen," Cruz said at a Wednesday town hall in Greenville, South Carolina. That, he claims, makes him a natural born citizen since his mom was born in Delaware.
Sounds crystal clear, except that this is still debatable. The Founding Fathers never defined "natural born citizen" in the Constitution, and Cruz's citizenship status isn't settled law.
The Illinois State Board of Elections already ruled that he was good to run, but Joyce appealed that ruling. There at least six other similar lawsuits running around: three federal complaints, and one each in New York, Indiana, and Vermont.
And no, Trump hasn't filed his yet, despite many threats, though Joyce would appreciate the help.
"My case presents the perfect opportunity for Donald Trump himself to step forward and bring the matter to court personally," he told CBS Chicago. "It would no doubt be impossible for me to absorb all the legal expenses by myself and it would be foolish to try to do so when Mr. Trump has so much personal stock invested in this issues."
[h/t The Chicago Tribune]
[image of Cruz via Shutterstock]
–
Follow Alberto Luperon on Twitter (@Alberto Luperon)
Have a tip we should know? [email protected]