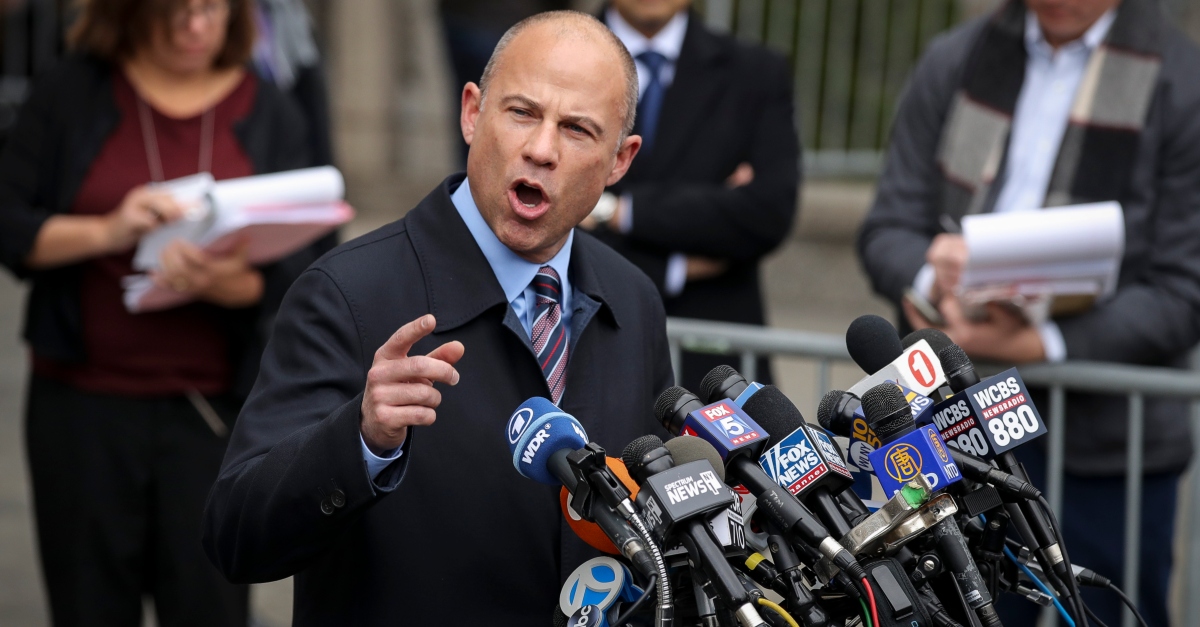 An emergency hearing occurred Wednesday after a former law partner alleged that California attorney Michael Avenatti, who is no longer representing Stormy Daniels, improperly filed for bankruptcy protection to avoid a deposition. Avenatti filed for bankruptcy protection for the second time last Thursday regarding his old firm Eagan Avenatti, this after a judgment of $10 million was awarded to his former law partner Jason Frank.
U.S. Bankruptcy Court Judge Catherine Bauer dismissed the second bankruptcy filing, ordered Avenatti to explain why he filed for chapter 11 bankruptcy on the eve of a scheduled deposition and prevented him from filing for bankruptcy protection for 180 days (or six months), the Wall Street Journal reported.
Although it's been said that Avenatti could be sanctioned if the judge finds the filing was done in bad faith, Avenatti wasn't worried. He told the Journal,  "No sanctions will be awarded."
Law&Crime reached out to Avenatti for comment and he said that this is "a big nothing burger."
"I haven't operated under this firm primarily for years," Avenatti said. "This is a big nothing burger that has little to no impact on me or my current firm. Who cares?"
The judge appeared to care when she ordered the explanation, saying, "I need him to tell me what was on his mind when he did it." Avenatti referred to Frank as a "disgruntled employee."
He reiterated that he has engaged in no wrongdoing.
Avenatti is no longer in financial control of his old law firm, as part of an agreement with Frank, who accused him hiding funds from the court. Frank had previously sued Avenatti and settled for millions, only to sue to collect the money when Avenatti didn't pay up on time. When Frank first took action against Avenatti, the firm declared bankruptcy, which enabled him to avoid a deposition and arbitration. Frank then accused the firm of using that time to hide their cash.
Frank's lawyers alleged that "brazen acts of bankruptcy fraud" had occurred.
Avenatti told the Journal that "All movement of monies was entirely above board and legitimate, especially seeing as I essentially owned and controlled the companies at all relevant times, all clients were my clients, and I was the individual primarily responsible for all fees generated at the firm."
"The fact that I paid myself was allowed and should come as no great surprise," he said.
Avenatti currently operates through the Avenatti & Associates firm.
Importantly, Avenatti reportedly agreed to turn over control of his old firm and its assets to a court-appointed receiver, in exchange for Frank withdrawing his bankruptcy fraud allegations. He has consistently said "I haven't done anything wrong" regarding this matter.
After the second bankruptcy protection filing, Frank accused Avenatti of doing so without the court-appointed receiver's consent. Notably, the latest filing occurred the evening before Avenatti was supposed to be interrogated by Frank's lawyers, Eric George and Andrew Stolper. Both attorneys alleged that Avenatti had something to hide.
"That Mr. Avenatti would try something so desperate speaks volumes about how bad the evidence is against him," George said. Stolper filed a motion to dismiss Avenatti's bankruptcy filing on Friday. He even warned Avenatti that the judge might see fit to have him arrested if he didn't show up to testify that day.
"If you want to have me arrested and do further damage to the assets of the firm, good luck," Avenatti replied.
Avenatti did not appear in court on Friday and U.S. Magistrate Judge Karen E. Scott did not issue a warrant. Frank's attorneys responded with a motion to dismiss the bankruptcy petition. Judge Bauer dismissed that petition on Wednesday.
"He owes Mr. Frank money. That's it. Full stop," Stolper said Thursday.
Ronn Blitzer contributed this report.
[Image via Drew Angerer/Getty Images]
Have a tip we should know? [email protected]