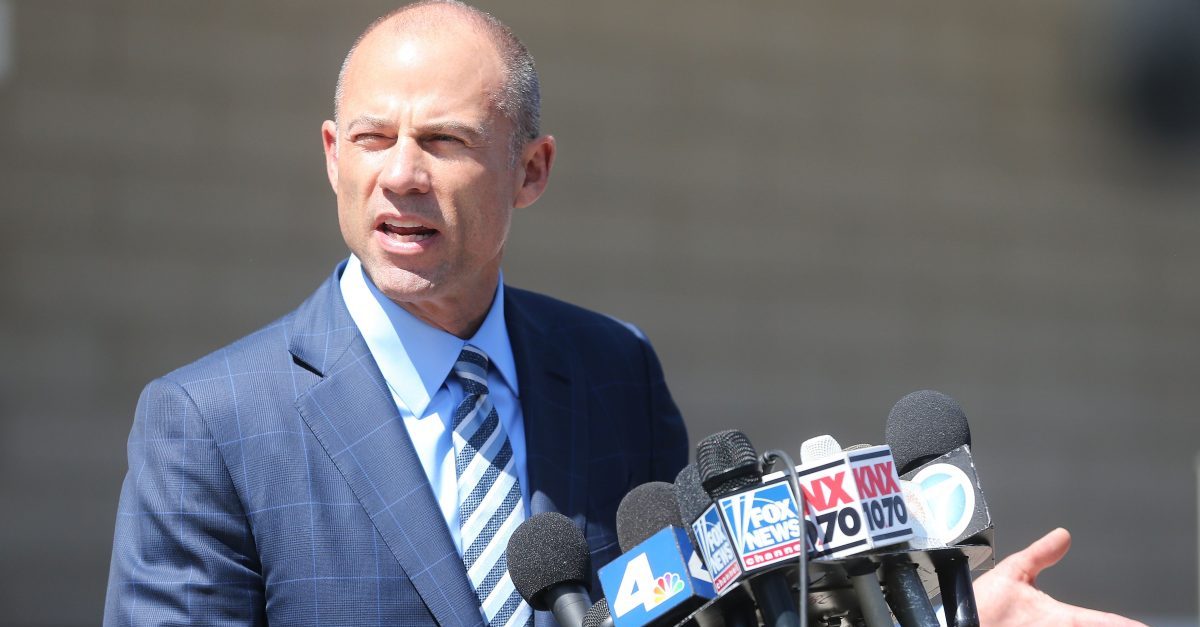 The good news for Michael Avenatti is he will be able to continue making media appearances to discuss Stormy Daniels's case against Michael Cohen and President Donald Trump, as Judge S. James Otero shot down Cohen's attempt to get a gag order to silence the outspoken attorney. The bad news is the judge also referred to his case as "banal" by way of a quote.
In a ruling issued on Tuesday, Judge Otero said that Cohen failed to show why such an extreme measure was necessary in the case over Daniels' hush agreement, where she received $130,000 to keep quiet about allegations that she had an affair with Trump.
The judge noted in his ruling that Cohen did not show why Avenatti's words met the standard required for issuing a prior restraint on speech, which is generally frowned upon except for in certain circumstances. Cohen feared that attacks on his character and other statements about the case would make it difficult to find an impartial jury, but Otero stated that the issue currently at hand is so narrow that such remarks shouldn't have any effect at all. He reminded Cohen that while Avenatti did file a motion for an expedited trial, the only issue that would be decided is whether the arbitration clause in Daniels' agreement is valid.
"If Plaintiff's motion is granted, however, the trial would be on the very narrow issue of the validity of an arbitration clause in an agreement between Mr. Trump, Ms. Clifford, and Essential Consultants, LLC ("EC"), Mr. Cohen's company," Otero wrote, saying that Cohen doesn't benefit from the agreement, as he isn't a party to it.
On top of that, such a case just isn't juicy enough that pretrial publicity would pose any real harm, Otero said:
"While he certainly has an interest in moving the case to arbitration, the validity of an arbitration agreement is an issue 'far more banal than the subject matters of the criminal trials in which pretrial publicity has presented serious constitutional problems.'"
Not only that, the judge reminded Cohen that there's nothing really at stake for Cohen when it comes to the hush agreement, because the contract calls for any damages to be paid to Trump, not him. As far as Daniels' defamation claim against Cohen, Otero reminded both sides that there's a long way before that would get to trial, and that's only if it survives Cohen's motion to strike, "and many other hurdles."
What it really boils down to for Cohen, Otero posited, is that he doesn't want anything to hurt him in his ongoing criminal investigation. While he sympathized with Cohen, Otero said there's nothing he can do about that:
It is clear that Mr. Cohen's worry is not about the effect of the publicity on this litigation, but the effect of the publicity surrounding this action on the SDNY Action. While this is a valid concern, this Court does not have the constitutional authority to impose a gag order on an attorney due to the potential effect of his comments on a proceeding outside the Court's jurisdiction.
In that matter, Judge Kimba Wood said that Avenatti had a choice: either he can be a part of the case, or he can continue his media appearances; he couldn't do both. Avenatti ended up withdrawing his request to join. Otero seemed to share Judge Wood's attitude towards Avenatti's antics, but against reminded everyone involved that this case just isn't important enough to take an extreme measure.
"While the Court shares Judge Wood's concerns about the extent and manner of Mr. Avenatti's publicity tour," he said, "the rights and issues involved in this action are far less consequential than the potential criminal prosecution in New York."
In a statement on Twitter, Avenatti celebrated the decision, which lets him continue to discuss Cohen and Trump on television.
Here is a copy of the Order Judge Otero just issued in our case against Mr. Trump and Mr. Cohen. It denies their attempt to silence me and prevent me from commenting as to the truth. So much winning from these two! #Basta https://t.co/doG2JazSq6

— Michael Avenatti (@MichaelAvenatti) July 31, 2018
"It denies their attempt to silence me and prevent me from commenting as to the truth," he said. "So much winning from these two!"
[Image via Mario Tama/Getty Images]
Have a tip we should know? [email protected]