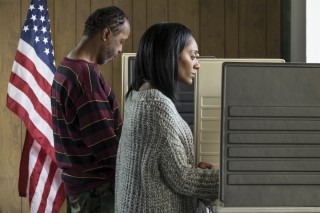 One big issue that always comes up around election time is the concept of states requiring voters to present photo identification in order to vote. Republicans have often been in favor of such laws, saying that they prevent voter fraud, but Democrats tend to oppose them, saying that they tend to result in preventing registered voters from exercising their rights at the polls. More specifically, they claim that low-income minority voters who tend to be Democrats end up disenfranchised.
A U.S. District Court judge in Wisconsin ruled to ease the restrictions in that state, in time for November's Presidential election, Reuters reported. Judge Lynn Adelman issued a temporary injunction saying that Wisconsin voters who do not have a proper ID can still vote if they fill out an appropriate affidavit. The sworn document must explain why a voter couldn't reasonably get the necessary ID. Acceptable reasons include a busy work schedule, not having a birth certificate or other required documents, and not having access to transportation.
"Although most voters in Wisconsin either possess qualifying ID or can easily obtain one, a safety net is needed for those voters who cannot obtain qualifying ID with reasonable effort," Judge Adelman said. The injunction is the result of a case brought by the ACLU in 2011 on behalf of voters who claimed they were unfairly disenfranchised. Judge Adelman had previously ruled to permanently overturn the ID law, but an appeals court overruled him. The U.S. Supreme Court kept the appeal court's decision, sending the case back to Judge Adelman.
While the affidavit system is only temporary, Judge Adelman can still rule to have the state make it permanent.
Have a tip we should know? [email protected]