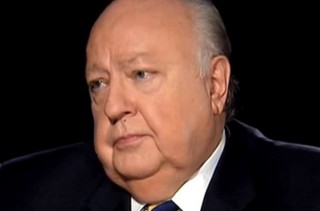 Last night, a very curious thing happened. For not even an hour, Matt Drudge posted a copy (or at least part of) Roger Ailes' exit agreement with the headline "Ailes leaves Fox News." Despite former anchor Gretchen Carlson's harassment claims against him, if the agreement was to be believed, it looked like Ailes was getting a pretty sweet deal which included a "$40 million parachute payment." Minutes later at 4:30 p.m., and without explanation, the agreement disappeared from Drudge, media outlets were walking back the story, and Ailes reportedly suffered a mini-meltdown.
Hearing Ailes is huddled with advisers in "full on crazy mode." He's furious that Megyn Kelly is now being credited with his ouster

— Gabriel Sherman (@gabrielsherman) July 19, 2016
So what the hell happened? Who leaked the memo to Drudge? Why was it deleted within minutes? Well, I will just say this, we all in the media, without a doubt, got played.
First, it's important to note that this was an unsigned agreement which Drudge posted. Most separation agreements, especially with high profile business executives, will include a confidentiality section. It wasn't included in the one-pager that was leaked, but I'm willing to bet a lot of money that Ailes' final agreement will contain a confidentiality clause.  That means that once a deal is signed, neither side can talk about it. If they do, they could face serious legal consequences for breach of contract.
But, guess what, as Ailes' lawyer Susan Estrich confirmed, the deal is not done, and the negotiations are still ongoing. So whoever leaked the memo is obviously trying to get the upper hand in contract negotiations. My bet is the leak came from the 21st Century Fox side, maybe even indirectly from one of the Murdochs, in an attempt to stir up public sentiment against Ailes. It seems to have worked.
New York Magazine's Gabriel Sherman, who has been on Ailes' case for years, reported that Rupert Murdoch and at least one of his sons are at odds about what to do with Ailes. However, all three are in agreement "that Ailes needs to go."  In addition, Sherman reports this:
Hearing proposed $40 million payout is what 21CF owes Ailes under his current contract if he is not fired for cause

— Gabriel Sherman (@gabrielsherman) July 19, 2016
You have to remember, this leak came the same day that news broke that Fox News ratings dominator Megyn Kelly told investigators that she was also harassed by Ailes.  In addition, in another leak this morning, LawNewz founder and ABC Chief Legal Analyst Dan Abrams reported that a source told him more women came forward with harassment allegations to investigators hired by 21st Century Fox. It looks like the Murdochs have a potential mess on their hands. There is no doubt that details will likely continue to drip out for years as Carlson's lawsuit against Ailes continues.  The Murdochs want Ailes gone, and, no doubt, on their terms.
As expected, immediately after the $40 million agreement was leaked to Drudge, the online outrage began:
Roger Ailes getting $40 million = no deterrence for sexual harassment. And his victim @GretchenCarlson is still jobless. #HireBackGretchen

— Christina Davidson (@RecessionRoadie) July 19, 2016
Roger Ailes has the last laugh. $40 million Golden Parachute for sexually abusing Fox News women staffers for 20 years. #FairandBalanced

— Jeff Gauvin (@JeffersonObama) July 19, 2016
Roger Ailes just (apparently) made $40 million by harassing women, in case you're wondering if things are still rigged in favor of bad men.

— Jamison Foser (@jamisonfoser) July 19, 2016
Now what about @GretchenCarlson who was brave enough to come out with her story and be attacked by her coworkers? https://t.co/scYFUaeuux

— Lisa Bloom (@LisaBloom) July 19, 2016
So, whoever leaked the memo (probably the Murdochs) is likely trying to do one of two things: 1) make a play to get Ailes fired for cause (and potentially avoid the $40 million) or 2) and probably more likely, force Ailes into  a weak negotiating position so that 21st Century can get what they want in the exit package deal. Either way, we are being played by both sides right now as heated contract negotiations continue. With a report from Breibart last night, citing an anonymous source, that there is some kind of "internal revolt" in the works, this could get really, really, interesting.
Have a tip we should know? [email protected]
Rachel Stockman - Editor in Chief / On Air Host