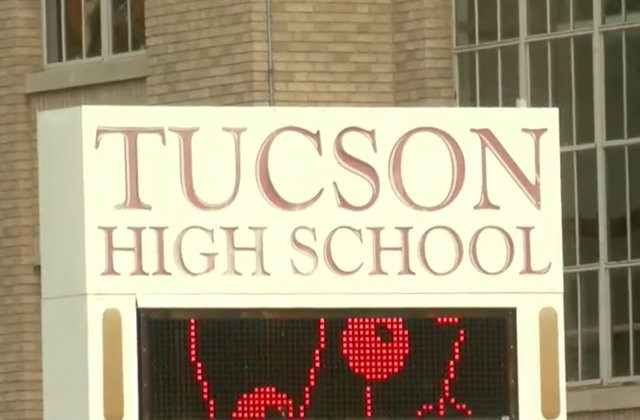 On Wednesday, a federal court issued a permanent injunction against the Arizona law banning a Mexican-American course. Judge A. Wallace Tashima wrote that the statute, known as § 15-112, "was enacted and enforced, not for a legitimate education purpose, but for (i) an invidious discriminatory racial purpose, and (ii) a politically partisan purpose" to eliminate the Tuscon United School District's Mexican-American Studies program, therefore violating the First and Fourteenth Amendments.
The Arizona legislature passed § 15-112 in 2010, banning school district or charter school courses that promoted "the overthrow of the United States government," "promote resentment toward a race or class of people," "are designed primarily for pupils of a particular ethnic group," or "advocate ethnic solidarity instead of pupils as individuals." Lawmakers threatened to withhold up to 10 percent of monthly state funding to leverage schools into following the law, and officials construed the TUSD's Mexican-American Studies program as violating the statute.
Tashima wrote that lawmakers got it wrong, and said § 15-112 violated the First and Fourteenth Amendment. In previously ruling in August, he wrote that the law was driven by a political goal, not a legitimate pedagogical concern, and he detailed a series events starting in 2006, when Latina civil rights activist Dolores Huerta gave a speech at Tucson High School, saying that "Republicans hate Latinos."
John Huppenthal, a former Republican state senator who enforced the law as the Arizona Superintendent of Public Instruction, caught flak in Tashima's August ruling. From the opinion:
Huppenthal's blog comments provide the most important and direct evidence that racial animus infected the decision to enact A.R.S. § 15-112. Huppenthal not only voted for the bill, but was a key player in the effort to get it passed. Several of his blog comments convey animus toward Mexican Americans generally. Trial Tr. 95:18-23 June 27, 2017 ("No Spanish radio stations, no Spanish billboards, no Spanish TV stations, no Spanish newspapers. This is America, speak English."); id. at 97:19-20 ("I don't mind them selling Mexican food as long as the menus are mostly in English."). Other comments specifically referenced and disparaged the MAS program and teachers in racial terms.
Huppenthal also claimed the MAS classes used "the exact same technique that Hitler used in his rise to power." Tashima saw such comment as evidence of wrongdoing by Huppenthal and Tom Horne, another Arizona Superintendent of Public Instruction.
"Instead, in enacting the statute, the legislature, Horne, and Huppenthal relied on and presented biased accounts of the MAS program that were based on limited evidence and laced with terms fairly understood to refer negatively to perceived traits of Mexican Americans," Tashima wrote.
[Screengrab via KGUN9]
Have a tip we should know? [email protected]