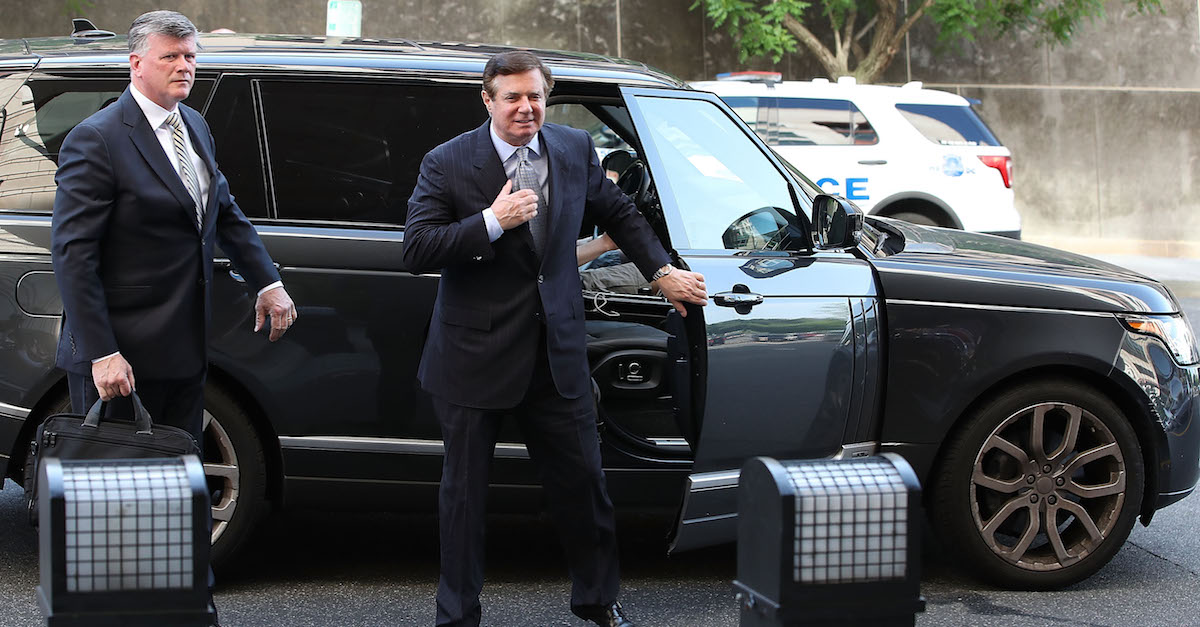 Former Trump campaign chairman Paul Manafort was dealt another blow to his defense on Tuesday in the case against him in the D.C., as his motion to completely redact seven affidavits detailing applications for search warrants came up short. Judge Amy Berman Jackson of the United States District Court for the District of Columbia gave two reasons for denying the motion: the affidavits in question were irrelevant; there was a need to protect "confidential sources."
Berman Jackson said that a review of the search and seizure warrant affidavits themselves and a "consideration of the pleadings" from both sides led her to the conclusion that Manafort's motion to compel should be denied.
The judge said that three of seven affidavits are already fully redacted, that the defense agrees there is "nothing left to be resolved" in two additional affidavits, and noted that the special counsel's arguments on last two disputed affidavits fell into two "categories."
Berman Jackson said information was being withheld because in those instances because "the names of confidential sources who had provided information to the government" were involved and because they contained "information relating to ongoing investigations that does not bear upon the allegations in either of the two cases now pending against Manafort."
"There is nothing in the redactions that relates to any of the charges now pending against Manafort or that would be relevant to a challenge to any of the warrants issued based on the affidavits," Berman Jackson wrote. "[P]articularly given the prosecution's stated willingness to set aside that information and not rely upon it to establish that there was probable cause to support the issuance of any warrant."
The judge also challenged the defense argument that if the affidavits related to Manafort they had "to right to see them."
"In sum, the limited redacted information does not relate 'to this defendant in this case,'" the judge wrote.
This comes on the heels of Berman Jackson's ruling two weeks ago that the case against Manafort would not be dismissed in D.C., even though there were some questions about Mueller's legal authority by Judge T.S. Ellis during separate Virginia proceedings against Manafort.
Berman Jackson said then that the Manafort indictment fell "squarely within" special counsel Robert Mueller's authority, that the investigation was "logical and appropriate; special counsel regulations do not "create any substantive rights for the benefit of individuals under investigation," that Mueller would have been "remiss" to ignore this "obvious potential link" between Manafort's alleged Ukraine dealings and Russia's election interference.
Manafort was indicted in D.C. back in October 2017 for financial fraud (money laundering) and violating lobbying disclosure laws.
[Image via Mark Wilson/Getty Images]
Have a tip we should know? [email protected]