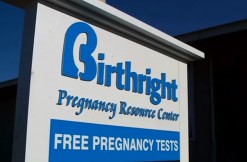 Pregnancy clinics in California can't withhold abortion information, a U.S. district judge ruled Tuesday. This decision upholds a law that requires state-licensed reproductive health centers to post notices about abortion, contraception, and prenatal care services for low-income women, including a phone number to call.
This is the most recent development in a wide-ranging legal fight between anti-abortion pregnancy centers, and the law. For example, the administrators of East County Pregnancy Care Clinic in San Diego won't provide info on where patients can terminate their pregnancies.
"I don't want to put up a sign telling you where you can go for an abortion," said Josh McClure, executive director of the clinic, to The New York Times. "The sign is not up here now because it's unconstitutional."
Like the plaintiffs in Tuesday's case, he says the law violates his right of free speech. But so far, three federal courts and one state court have upheld the statue, which went into effect in January. State officials say it is friendly to the First Amendment because it doesn't make centers declare their beliefs.
Before the law's passage in 2015, California Assemblywoman Autumn Burke told a CBS affiliate the option for abortion should be available to women as a matter of constitutional right.
"We're not asking them [pregnancy clinics] to actually speak the word 'abortion,'" she said. "We're asking them to post the information, to provide the information."
This won't end with Tuesday's development. The centers, represented by legal groups like the Pacific Justice Institute and the American Center for Law and Justice, promise to take this to the U.S. Supreme Court.
All in all, there are 3,000 anti-abortion pregnancy clinics in the nation, with several states (like Kansas and Louisiana) passing laws that could squeeze out actual abortion clinics.
[h/t New York Times]
[image of anti-abortion pregnancy clinic via CBS SF screengrab]
–
>> Follow Alberto Luperon on Twitter (@Alberto Luperon)
Have a tip we should know? [email protected]