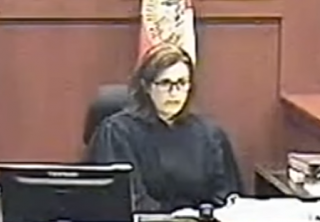 A Florida judge is facing sanctions after jailing a domestic violence victim who did not testify against an alleged abuser, WESH reported. At a hearing in July 2015, Seminole County Judge Jerri Collins asked the crying woman why she had failed to show up for a previous court appearance. When the woman responded, saying she had been battling anxiety and depression since the alleged abuse, Collins sentenced her to three days in jail for contempt of court. "You think you're going to have anxiety now?" Collins asked her. "You haven't even seen anxiety."
You can watch video from the courtroom when this happened, courtesy of the New York Daily News:

Judge Collins admitted what she did to a judicial panel, but maintained that she was within her power to jail the woman because she had ignored a subpoena. She acknowledged that she should display more patience towards the woman. On Thursday, the Florida Supreme Court told Collins she must take an anger management class and a domestic violence course. Additionally, she will face a public reprimand.
Have a tip we should know? [email protected]