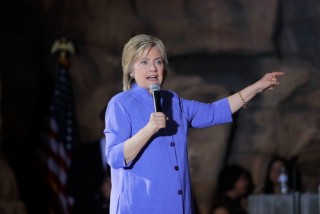 A federal judge has granted a conservative watchdog's motion paving the way for top Clinton aides who helped maintain her private email server to testify under oath. This order is part of an ongoing Freedom of Information Act lawsuit filed by Judicial Watch, a D.C. based conservative foundation. The group is trying to determine if Hillary Clinton and her aides deliberately shielded the email account from a public records request.
"Judge Sullivan's ruling granting Judicial Watch's request for discovery is a major victory for the public's right to know the truth about Hillary Clinton's email system.  The court-ordered discovery will help determine why the State Department and Mrs. Clinton, even despite receiving numerous FOIA requests, kept the record system secret for years," Tom Fitton, the group's president, said in a press release.
The watchdog group said they are specifically seeking records about the employment status of Huma Abedin, former Deputy Chief of Staff to Clinton. Abedin is the wife of disgraced former U.S. Congressman Anthony Weiner.  Abedin negotiated a deal in which she was reportedly working simultaneously for the State Department and the Clinton Foundation for about 6 months.
In January, Fox News reported that the FBI had expanded their email probe to include the Clinton Foundation and potential public corruption allegations.
The judge, in the FOIA lawsuit, is also considering whether to order the State Department to subpoena all the emails on the clinton.com email system. A Clinton spokesperson brushed off the lawsuit as a "right wing attack."
"My point is this is promulgated by a right-wing group. Our campaign is accustomed to right wing attacks and they're going to continue," Clinton campaign manager Robby Mook said on CNN.
The State Department has reported the number of classified emails on Clinton's  private server has reached 1,666. Clinton's campaign contends that the emails have been over-classified.
Have a tip we should know? [email protected]
Rachel Stockman - Editor in Chief / On Air Host