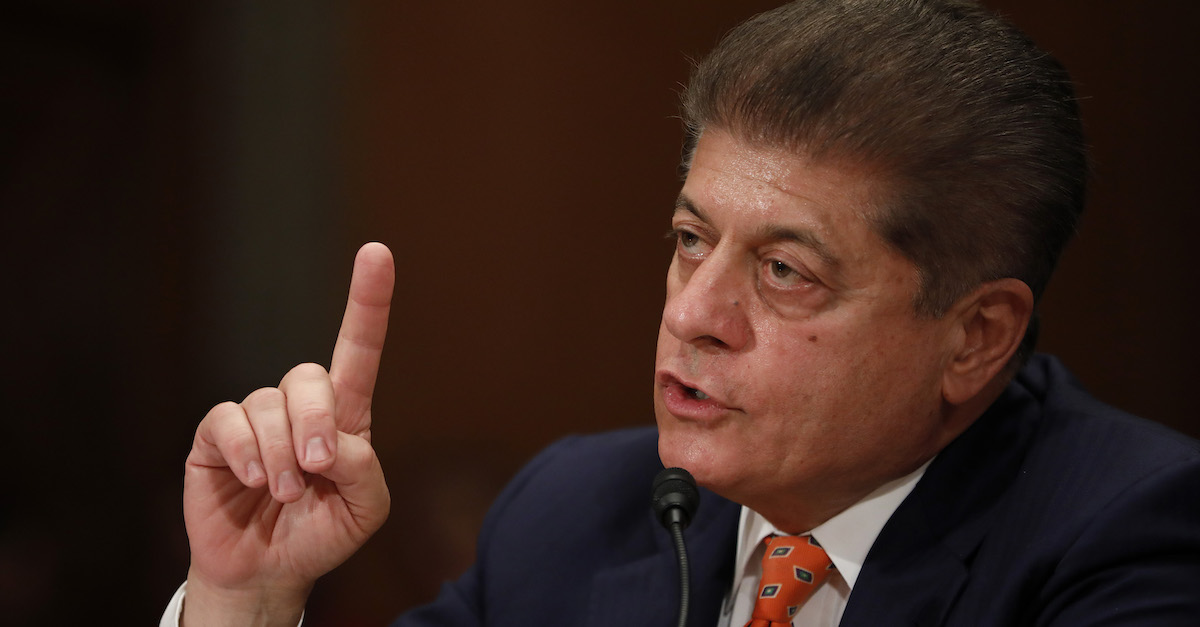 Fox News judicial analyst Andrew Napolitano has penned a column in the Washington Times to say that he doesn't believe Special Counsel Robert Mueller's Russia investigation is a "fishing expedition," and that there are three key indications Mueller isn't about to wrap up soon.
Napolitano, who made some news Wednesday on Law&Crime founder Dan Abrams' SiriusXM radio show by predicting that Donald Trump Jr. will be indicted, has made an argument that some of his Fox News colleagues would be loathe to endorse. (Napolitano has since walked his comments back a little.) Napolitano is also saying the number of people Mueller still needs to bring to trial, the revelations of Michael Cohen's guilty plea, and Paul Manafort's breach of a cooperation deal all indicate that there is plenty left to be done.
These were Napolitano's three points:
First, [Mueller] has a few dozen defendants whom he has indicted and needs to try — even though most are Russians indicted for hacking and interfering with the 2016 election campaign and will be tried in absentia.

Second, he keeps acquiring new evidence. Last week, when Mr. Trump's former personal lawyer Michael Cohen pleaded guilty in federal court in Manhattan to lying to Congress about Mr. Trump's negotiations with Russian authorities during the 2016 presidential campaign to build Trump Tower Moscow, Mr. Cohen claimed he lied so as to further Mr. Trump's political message, which has been one of zero relationships with Russian officials during the campaign.

[…]

The third reason for rejecting the belief that Mr. Mueller will soon shut down is Mr. Mueller's declaration to a federal judge in Washington last week that Paul Manafort, Mr. Trump's campaign manager during the time the Trump campaign had 87 communications with Russians, lied to FBI agents in defiance of his commitment to be truthful to them made during his guilty plea in federal court in September. Mr. Mueller will no doubt seek to indict Manafort for each of those lies and then try him — a trial that could not occur until mid-2019.
In the first point, Napolitano is referencing the Russian military intelligence officers who were allegedly behind the fictitious persona Guccifer 2.0 and the 2016 hack of the DNC. Russian president Vladimir Putin has offered a pretty blunt response to legal threats relating to the DNC hack. Mueller also has to move forward with his case against alleged Russian troll farm Concord Management and other entities and individuals alleged to have carried out an election interference operation.
The second point, and Napolitano's keen observation about it, is more interesting. Cohen admitting that he lied to be "loyal" to President Donald Trump and to be consistent with Trump's political message occurred after many discussions with the special counsel. What we do know is that Cohen lied about how long talk of the Trump Tower deal in Moscow (known as the Moscow Project) went on. Cohen initially said it carried on until January 2016, but he admitted that was a lie. He said discussions actually continued into June 2016. As Napolitano noted, this is no small development when you consider what prosecutors were willing to give Cohen in exchange for this information.
"Whatever he told them and they were able to corroborate, they caused his prison exposure to be reduced from somewhere between 15 and 60 years to six months. Such a reduction requires a substantial quid pro quo. What was it?" Napolitano asked. Good question.
The third point is a relevant one for this upcoming Friday, when Mueller is supposed to detail the "nature" of former Trump campaign chairman Paul Manafort's "lies" to FBI investigators. That memo stands to have some really juicy details, if we are actually able to read it. In light of the serious redacting done on fired National Security Adviser Michael Flynn's sentencing memo, it may be best to keep expectations low.
What we do know is that, like Cohen, Manafort spent many hours being interviewed by the special counsel and the two had completely opposite outcomes. While Cohen has seen has prison sentence significantly reduced for being truthful and helpful in Mueller's estimation, Manafort is going to be sentenced more severely for not telling the truth. Not even a presidential pardon may help him.
If Mueller goes for a Manafort re-trial, which has been suggested as a possibility, Napolitano is also right to note that this stands to drag out the Mueller probe into the middle of next year.
Mueller did not have Manafort face a second trial because Manafort cut a deal that has since fallen through. He may, however, seek a re-trial in the Eastern District of Virginia. Manafort was convicted there in August on eight bank and tax fraud counts, but a lone holdout juror led to a mistrial on the remaining 10 counts.
All the more reason to wait and watch is that we still don't know how things will play out with Jerome Corsi, Roger Stone, the aforementioned Trump Jr., or others.
[Image via Aaron P. Bernstein/Getty Images]
Have a tip we should know? [email protected]