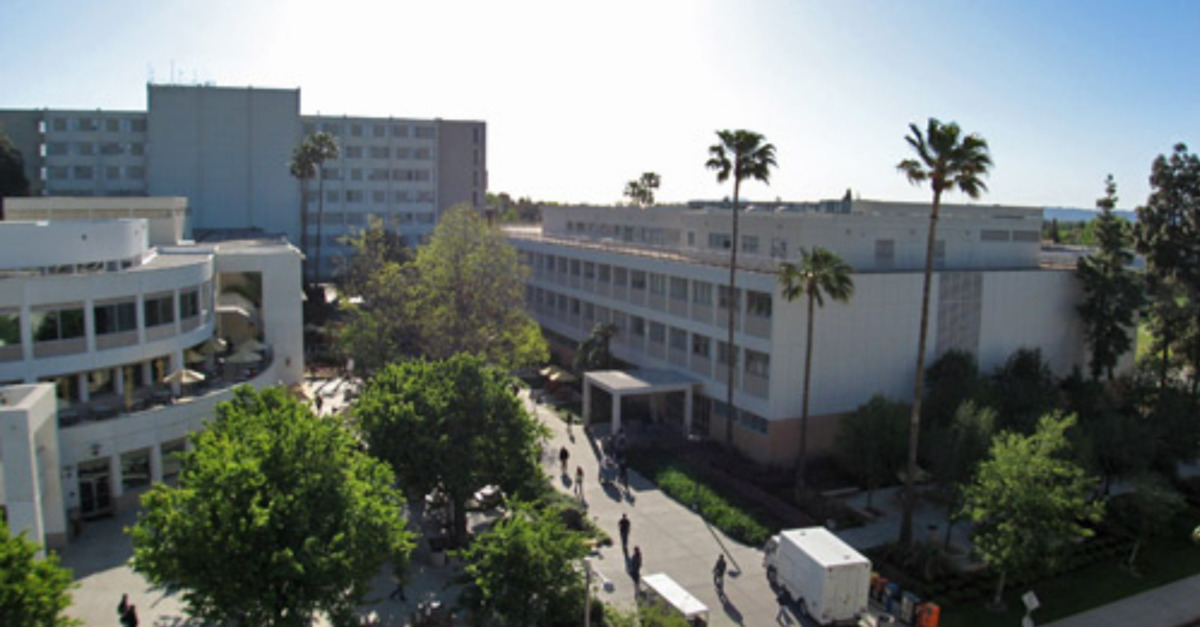 Graffiti at a university in California threatens a mass shooting next week. Campus police have responded by stepping up patrols and are currently investigating whether the threat is real. The administration, however, has downplayed the threat's credibility.
Scrawled in black marker across several areas in a men's restroom at California State University Northridge (CSUN), the graffiti also contains various anti-Semitic and racist messages and symbols–including a swastika and the N-word.
The gun threat promises:
Mass shooting in Sierra Hall 12/12/18
Sierra Hall hosts CSUN political science department and is advertised as a potential filming location.
"This building has classrooms of varied seating capacities (40 to 84 seats)," the university's website notes. "Classrooms are equipped with green/black boards, and a television set or a collection of world maps. It has a first floor lobby with cushioned seats. The Sierra Hall Breezeway was the filming location for a Toyota RAV4 commercial. Sierra Hall is a regular location for Kaplan Test Prep, Princeton Review, and TestMasters classes."
According to the Los Angeles Times, authorities have yet to identify a suspect and aren't providing much more information than that. "We're just going to investigate it to try to determine what kind of threat we have, if it's credible," CSUN Police Captain Alfredo Fernandez told the paper.
Law&Crime has subsequently learned that some teachers have canceled classes on the day in question, December 12, while other teachers are carrying on as usual. Additional teachers are said to be considering class cancellations as the threat is assessed.
The university tweeted about the graffiti early Thursday morning after students shared images on social media.
"CSUN is aware of the hateful and offensive graffiti in Sierra Hall," the university noted. "CSUN Police are investigating this use of hateful language and symbols and threat against our community. We are working to remove this graffiti immediately. CSUN condemns this in the strongest possible terms."
According to social media posts by students there, the university had yet to email students about the threat and messages as of Thursday morning.
"To all of my CSUN friends please stay careful and if you see something say something," Hannah Johnson wrote on Facebook. "Other than that I am kind of at a loss for words at the moment. CSUN hasn't emailed us about anything so we will see how long it takes."
On Thursday afternoon, however, CSUN President Dianne F. Harrison, Ph.D. issued an open letter addressing the graffiti on the front page of the university's website.
"At this time, there is no indication that the threat of a mass shooting is credible, and there is no indication of an imminent threat to campus," Harrison said. "While we cannot share specifics in order to protect the integrity of the ongoing investigation, this matter has our utmost attention."
The letter continues:
Based on a threat assessment and current circumstances, classes remain in session, and finals will continue as planned. For those in our community who are particularly impacted by this threat and the hate-filled language, I encourage you to speak to your instructors or supervisor about any request for academic or work adjustment. Additionally, CSUN will be evaluating what accommodations may be needed for students as they head into finals. We will closely watch the situation and communicate with students and employees should we need to make changes relating to finals and the status of campus.
[image of Sierra Hall via CSUN]
Follow Colin Kalmbacher on Twitter: @colinkalmbacher
Have a tip we should know? [email protected]