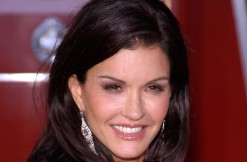 A judge ruled Tuesday that Janice Dickinson's defamation lawsuit against Bill Cosby can go to trial. Los Angeles Superior Court Judge Debre Katz Weintraub said that a jury can hear the case. Dickinson, 61, claims Cosby raped her in 1982. "In retaliation, Cosby, through an attorney [Marty Singer], publicly branded her a liar," according to a May 2015 court document obtained by Deadline.
Weintraub insisted she wasn't ruling on the truthfulness of either Dickinson's or Cosby's claims, but said the supermodel could get punitive damages if she wins.
"I want Bill Cosby in court," the supermodel told reporters after the ruling. "I want him to stand under oath."
The trial has yet to be scheduled, and Cosby's legal team can still keep trying to get the suit dismissed, Page Six reports. Then again, it has already survived such an attempt. Cosby's attorneys say her stories about meeting him have been inconsistent.
More than 50 women have publicly alleged that Cosby sexually assaulted them. He has denied every claim. Only one has resulted in a criminal charge: that of Andrea Constand, 42, who says the 78-year-old comedian drugged and took advantage of her at his Pennsylvania home in 2004. Most other allegations cannot be prosecuted because the statutes of limitations ran out in those cases.
"Bill Cosby has fought to keep women out of court with regard to their rape allegations," Dickinson's attorney Lisa Bloom told reporters Tuesday. "Janice and I, side by side, have been fighting for this day for a year."
[h/t Page Six]
[image via Shutterstock]
–
Follow Alberto Luperon on Twitter (@Alberto Luperon)
Have a tip we should know? [email protected]