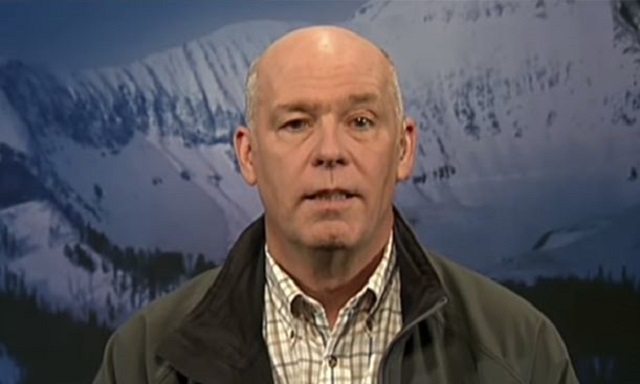 A journalist who was attacked by GOP Representative Greg Gianforte earlier this year is threatening legal action against the congressman for allegedly making false and defamatory statements about the attack in question.
Ben Jacobs, a Guardian reporter who had his glasses broken by Gianforte during that highly-publicized attack on the eve of the May 25 special election for Montana's at-large congressional district, sent Gianforte and his spokesman, Travis Hall, a cease and desist letter just this morning.
The letter claims to be "prompted by recent news accounts quoting Mr. Hall's written statement that…'[n]o one was misled, and anyone who says otherwise is mistaken.'" This is an apparent reference to pushback from Gianforte's team on a story from earlier this month alleging that Gianforte lied to investigators immediately after the attack occurred. The letter continues:
Mr. Hall's written statement is false and defamatory, because it denotes that the accurate accounts of Mr. Jacobs and numerous eyewitnesses about Rep. Gianforte's unprovoked May 24, 2017 assault were somehow "mistaken."
Gianforte was charged with misdemeanor assault over the attack and eventually pleaded guilty to that charge.
Jacobs' letter references Gianforte's own admission of guilt and juxtaposes it with Hall's recent comments, noting that Hall's defense of his boss "directly contradicts" what Gianforte himself wrote in a June 7 letter to Jacobs which described the genesis of the physical confrontation.
The  letter contains a warning that should Hall and/or Gianforte continue to make such statements, more substantial legal action is likely to follow. It ends:
It is unacceptable and actionable for Rep. Gianforte, Mr. Hall, or any other persons working for or affiliated with Rep. Gianforte or his campaign to make false and defamatory statements about the May 24 assault. Please advise Rep. Gianforte, Mr. Hall, and the Gianforte campaign of the need to cease and desist from making such statements. Mr. Jacobs reserves all rights in connection with any and all false and defamatory statements…about him or the May 24 assault.
[image via screengrab]
Follow Colin Kalmbacher on Twitter: @colinkalmbacher
Have a tip we should know? [email protected]