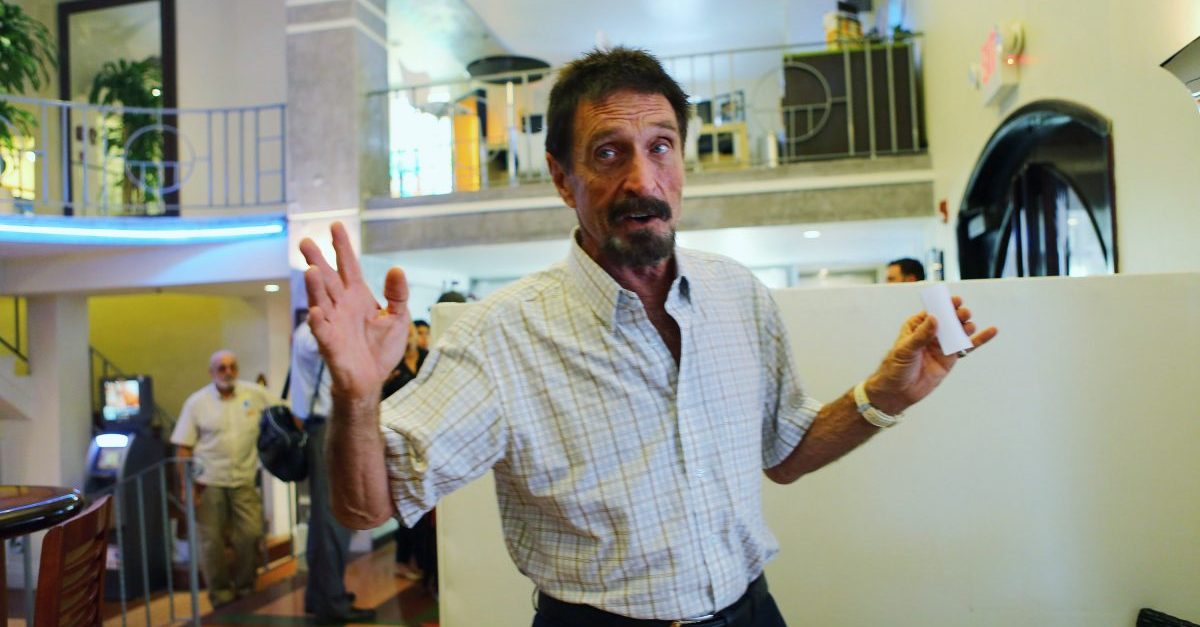 John McAfee, founder of the well-known anti-virus software company bearing his name, was hit with a $25 million judgment in a wrongful death case brought by the estate of a Belizean man who was allegedly murdered at McAfee's behest. Don't expect him to pay up, though. Wednesday morning, McAfee issued a statement saying he hasn't paid judgments for any lawsuit over the past 11 years, and he has no intention of starting now.
His reasons are apparently two-fold. He says that cases against him have been baseless, but he also claims he doesn't have any money, so there's no point in even responding to the lawsuits in the first place.
"I have not responded to a single one of my 37 lawsuits for the past 11 years," McAfee said. "They have all been frivolous, even though judges are required to decide for the plaintiff if I do not respond. I refuse to play the legal extortion game aimed at America's wealthy class."
The Estate of Gregiry Faul was just awarded a $25 Million judgement against me: https://t.co/OZ65Jirsb3
Here is my formal response to the media (who will spam my phones tomorrow and who are responsible for most of my 200+ lawsuits.) pic.twitter.com/Bsde9plr03

— John McAfee (@officialmcafee) March 20, 2019
Despite the reference to the wealthy class, McAfee went on to say, "I have no assets so have been unable to pay a single penny to any of them," saying more than $200 million in judgments have been made against him since he stopped responding to lawsuits.
The latest case came about after the 2012 death of Gregory Faull, owner of the home next door to McAfee's in Belize, where he had been living. Faull and McAfee had allegedly had disputes while they were neighbors. After Faull was found dead from an apparent gunshot wound, McAfee was accused of ordering a hit. Court papers said that McAfee then left the country, going to Guatemala and then the United States.
In 2016, McAfee ran for president as a Libertarian, but was unsuccessful in securing the party's nomination. He is currently campaigning for the 2020 election, even though he said on Twitter earlier this year that he is in "exile" because the IRS is pursuing charges against him, his wife, and members of his campaign. In a video posted on January 22, McAfee said he hasn't paid taxes in eight years and has dared the government to "come and find me."
[Image via Joe Raedle/Getty Images]
Have a tip we should know? [email protected]