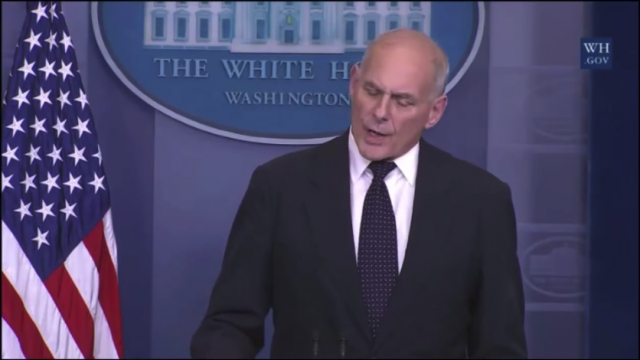 White House chief of staff John Kelly told reporters today that many immigrants have been "too lazy" or "too afraid" to sign up for the Deferred Action for Childhood Arrivals ("DACA") program.
Kelly was pitching President Donald Trump's proposed immigration plan. That plan would provide a lengthy path to citizenship for up to 1.8 million undocumented immigrants–which, he noted, is a number higher than Democrats are presently requesting. Kelly said:
There are 690,000 official DACA registrants and the president sent over what amounts to be two and a half times that number, to 1.8 million. The difference between [690,000] and 1.8 million were the people that some would say were too afraid to sign up, others would say were too lazy to get off their asses, but they didn't sign up.
Kelly's comments come amidst increasing strife between the three major players in the increasingly pitched immigration battle: (1) congressional Democrats; (2) congressional Republicans; and (3) the White House itself–none of whom currently see eye-to-eye on the perennially hot-and-avoided issue.
Lawmakers from both parties are hoping to reach a compromise soon which would both fund the government and provide protections for DACA recipients known as "Dreamers." The next funding deadline comes this Friday while the DACA program is officially being axed on March 5.
Kelly noted, however, that the March 5 expiration date is not likely to have an immediate impact on most DACA recipients. He also added that DACA recipients would not be prioritized by immigration enforcement officials–unless they started committing crimes.
While Democrats are looking to protect a relatively paltry number of undocumented immigrants relative to Trump's proposal, the actual number of such immigrants–Dreamers under the original definition–in the United States is actually double the number that would be protected under the White House plan: some 3.6 million individuals were brought to the United States as children and most of those people aren't being addressed by any of the current immigration debates.
[image via screengrab/WhiteHouse.gov]
Follow Colin Kalmbacher on Twitter: @colinkalmbacher
Have a tip we should know? [email protected]