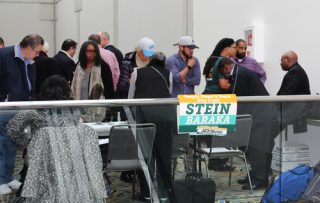 I first wrote about Jill Stein's colossal failure of a recount effort on Friday, urging her to give back the millions she's collected from obviously duped donors (who believe she stood a chance in changing the outcome of the election). But, the extent of how she's wasted money was apparently only starting to come to light. Since that posting, both the Michigan Supreme Court and a federal Judge Paul S. Diamond of the Eastern District of Pennsylvania have basically laughed her out of court. That was after getting shot down by a federal judge in Michigan, the Michigan Court of Appeals, and essentially a judge in a Pennsylvania state court.
As of Friday, Stein has collected $7.3 million dollars, and she is still begging for more. The new goal for the recount is $9.5 million. And get this, on her website, the Green Party candidate is still pushing the fantasy that recounts are somehow going to happen in Michigan and Pennsylvania. On top of some significant legal setbacks, the deadline for states to certify results is December 13.  That's tomorrow!  There is just no chance this will happen.
When Stein first started this effort she said she needed to raise $2.5 million. When she quickly saw the coffers fill,  she changed her goal to $7 million.  And now the Stein campaign claims they are desperately in need of almost $10 million to get this done. "..legal fees are still coming in, and we need to have enough firepower to prevail," the Stein website says. Somehow, and quite miraculously, people are still being fooled into pulling out their wallets. We are now exactly 6 days until the Electoral College meets and Stein is no closer to where she began in her effort to bring "election integrity" back to the system. In fact, she's done quite the opposite.
Stein's raised twice as much money than she ever gathered as an actual candidate during the campaign. This is largely due to desperate Hillary Clinton supporters who are clinging on to any last hope of keeping Donald Trump from the White House. While I can't totally blame them for their sentiments, continuing to donate to this effort is a total waste of money. When it comes down to it, the only person who has actually benefited from this recount effort is Jill Stein (and The Green Party). She now has thousands of new names on her roster to solicit donations from in the future.  This isn't about bringing integrity back to the system, and it's now become a big waste of time and money too.
Don't believe me? Take a look at where she stands in the three states which she targeted for recounts (this has been updated as of Monday Morning)
Michigan:
The Michigan Supreme Court dealt Jill Stein her final blow by denying her appeal on Friday. This was a last ditch attempt by Stein to keep the case going after a federal judge brought the recount to halt late Wednesday afternoon. The Michigan Supreme Court refused to take up the appeal stating that Stein "failed to allege that she has been harmed or that her legal rights have been infringed in any way whatsoever."
That came shortly after the Michigan State Court of Appeals ruled that the recount never should have begun in the first place, because Stein is not an "aggrieved candidate." After all, she received just over 1% of the vote.  Stein attempted to argue that she had a constitutional right to a recount in federal court, but Judge Mark Goldsmith didn't buy it.  Goldsmith wrote in his opinion that such a right doesn't exist. The only one that does is the right "to participate in a fair election, free from tampering or mistake." While Stein alleged "speculative claims going to the vulnerability of the voting machinery," Judge Goldsmith wrote that she did not bring any actual evidence of tampering. The judge wrote:
"But invoking a court's aid to remedy that problem in the manner plaintiffs have chosen — seeking a recount as an audit of the election to test whether the vulnerability led to actual compromise of the voting system — has never been endorsed by any court, and would require, at a minimum, evidence of significant fraud or mistake — and not speculative fear of them. Such evidence has not been presented here.
Before the judge had put a stop to the recount, Ingham county had finished its recount. And guess, what? Trump actually gained 73 votes, Clinton gained 138, and Stein lost two votes!
Pennsylvania
On Monday, a federal judge in Pennsylvania gave a blistering order denying Stein's Pennsylvania recount request. In his order, Judge Diamond shredded Stein's reasons for why a recount is necessary, saying that her request was "later than last minute," and that her suspicion that the election in Pennsylvania was hacked "borders on the irrational."  The State's attorney general, who is a Democrat, even attacked the recount effort as well.
"[T]he plaintiffs want to audit machines even though they concede that there may be no evidence of anything when they look. This is the epitome of a fishing expedition and cannot be sanctioned in the context of a presidential election and a last minute attempt to derail Pennsylvania's election results, " Pennsylvania AG Bruce Beemer wrote in a court filing. While Stein might be right that Pennsylvania's election system is outdated with paperless electronic voting machines, that's not a reason to upend the system without any evidence of fraud or malfeasance.
Before Stein went to federal court, she tried the same thing in state court, but dropped her lawsuit because the $1 million bond was too much for her to pay (still unclear why that's the case if they've raised $7.3 million). Ned Foley, an election law professor at The Ohio State University's Moritz College of Law, told The Huffington Post that Stein had little evidence to support her case that Pennsylvania's election result is illegal. "Votes have to be counted fairly … but that does not guarantee anybody a right to a recount," Foley said
Wisconsin
Wisconsin is the only state where she has been successful in getting a recount underway. What has it revealed? Absolutely nothing. No evidence of fraud. No evidence of rigging.With about 95 percent of the votes recounted, Clinton had gained a whopping 25 votes on Trump but she is still behind Trump by about 22,000. Stein also lost an earlier bid in which she sued in Wisconsin demanding that the recount be done by hand.
The fact that three states are still wasting time and resources on this pointless and futile effort is mind boggling.  As The New Yorker's Jeffrey Toobin accurately pointed out, her effort is distracting us from the real "voting-rights scandal of 2016" which is voter suppression. This was the first election since the Supreme Court's Shelby County v. Holder decision which pretty much gave the green light for Republican-controlled states to pass restrictive voting laws that effectively prevented some minorities from voting. So yes, there was voter disenfranchisement in the 2016 election, but Stein's fruitless recounts aren't going to unveil the possibly thousands of ballots that were never cast.
"Prolonging the campaign by seeking a recount breeds unwarranted doubt about the legitimacy of our elections — without any real evidence to back it up. Our democratic system relies on everyone accepting the result," Joshua A. Douglas, a professor at the University of Kentucky College of Law who specializes in election law, wrote in a recent opinion piece.
Stein needs to stop her efforts, and give what money she has left (if any) back to the donors immediately.
[image via shutterstock]
A version of this piece was first published on Friday, but this article has been updated to reflect the most recent court action. 
This is an opinion piece. The views expressed in this article are those of just the author.
Rachel Stockman - Editor in Chief / On Air Host