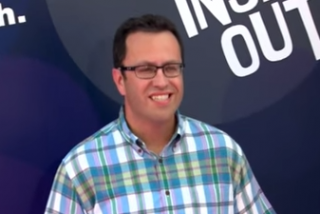 Jared Fogle, the disgraced former Subway spokesman, is currently in jail on a 15-year sentence for child pornography and sex with minors. Now, one of his victims is suing him in federal court.
The victim, known only as "Jane Doe," claims that while she was a guest at the home of Russell and Angela Taylor between March 2011 and January 2015. She says Taylor secretly videotaped her changing clothes, showering, and bathing, according to WRTV of Indianapolis. She says that he then shared the videos with Fogle.
Doe's lawsuit seeks money for personal injuries, emotional distress, and invasion of privacy, as well as negligent supervision and negligence for allowing the recording of herself and other minors.
Taylor is currently in a Florida federal prison, serving a 27-year sentence for child pornography. Taylor used to run a foundation that was started by Fogle, according to the New York Daily News.
As part of his plea deal in the criminal case, Fogle agreed to a 12-year sentence, but the judge upped it to 15, which Fogle is currently appealing. In addition, the plea deal required him to pay $1.4 million to his 14 victims, or $100,000 each. Doe was among them, and is now looking for an additional $150,000 each from Fogle and Taylor.
[h/t NY Daily News, screengrab via TMZ]
Have a tip we should know? [email protected]