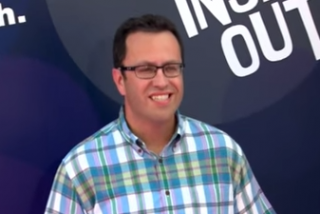 The disgraced Subway spokesman Jared Fogle plans to sue the parents of one of his victims from behind bars. In a motion filed in an Indiana federal court, Fogle blames the parents' divorce for the victim's current mental problems.
In a lawsuit filed earlier this year, the girl's parents claimed she became suicidal after learning that she was one of the girls who was unknowingly filmed by him and another woman while she changed clothes at his home.
Fogel plans to countersue. In court paperwork, he blames her parents who his attorneys called by their initials in recent filings.
"B.T. and J.T. maintained a hateful and abusive relationship toward each other, which included, but was not limited to, engaging in frequent fighting and arguing between themselves; abusing alcohol and getting drunk; and engaging in frequent fighting, physical abuse, and arguing with Jane Doe, which caused Jane Doe to suffer from emotional distress, anxiety, and major depression before she learned of any allegations [about Fogle and accomplice Russell Taylor]," his lawyers argued in a lawsuit obtained by The Daily Mail.
The response has been justifiably brutal:
Who know a person could be lower than scum? ⚡️ "Ex-Subway pitchman Jared Fogle sues his victim's parents "https://t.co/nPnJEFUASf

— Torsha DeJarnett (@tdejarnett) September 2, 2016
There isn't a word for how despicable this is – our legal system should protect victims and their families from this https://t.co/6UhtOapbQW

— Rhonda Ragsdale (@profragsdale) September 2, 2016
As if I couldn't hate him more. ⚡️ "Ex-Subway pitchman Jared Fogle sues his victim's parents "https://t.co/vWG9X3q9wk

— Mortemer (@Mort3mer) September 2, 2016
It's like if Subway wanted to honor Jared Fogle but, you know, for his weight loss. #PennState

— Betty F*ckin' White (@BettyFckinWhite) September 2, 2016
Fogle pleaded guilty to one count of distribution and receipt of child pornography and one count of traveling to engage in illicit sexual conduct with a minor. Fogle reportedly traveled to New York City where he allegedly paid to engage in sexual acts with minors. He was sentenced to 15 and 1/2 years in prison.
Have a tip we should know? [email protected]
Rachel Stockman - President / On Air Host