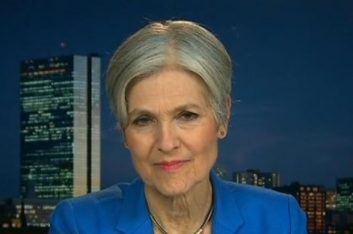 Recount efforts filed by Green Party candidate Jill Stein in the aftermath of the wild 2016 presidential election received a lot of attention as some on the political left viewed them as the only real chance to stop Donald Trump from actually reaching the White House.  As time went on people started to lose interest and by the time 2016 rolled into 2017, the matter was essentially all but forgotten.  Jill Stein's team, however, seemingly did not get the memo and is still filing new legal documents in the recount case brought in Pennsylvania.
On Tuesday, Stein's legal team filed an amended complaint in federal court in Pennsylvania asking the judge to rule that the state's recount procedures are unconstitutional.
According to a copy of the complaint obtained by LawNewz, Stein's team makes many of the same arguments it made in its original declaratory judgment compliant filed back in December.
Namely, Stein argues Pennsylvania's laws for requesting a recount violate the 14th Amendment Due Process rights of its citizens to ensure their votes are fairly counted because many of the machines do not have a paper trial or paper record of the vote cast on a digital touchscreen machine.   Additionally, she argues the state's laws violate the First Amendment rights of Pennsylvania citizens because they allow for "a system of voting that is fundamentally unfair and that denies and severely burdens the right to vote, to have votes counted, and to recounts/recanvassing of the vote."  Finally, she argues another 14th Amendment violation because the state's voting system provides for an unfair and arbitrary system in requesting a recount.
All that said, it is not as though the defendants in the case, the secretary of state of Pennsylvania and the director of the board of elections, were blindsided by the latest court filing.  A review of the docket from late last month shows the parties agreed to give Stein's team an extension of time to file her amended complaint.
As a practical matter, it would appear Stein is no longer interested in just keeping Trump out of the White House (or acting as a cover for Hillary Clinton's team as defendants in other states alleged).  It seems her lawsuit is now designed to bring about change in how the state handles recount matters in future elections.
READ the Amended Complaint:
Stein Amended Complaint by LawNewz on Scribd
Have a tip we should know? [email protected]