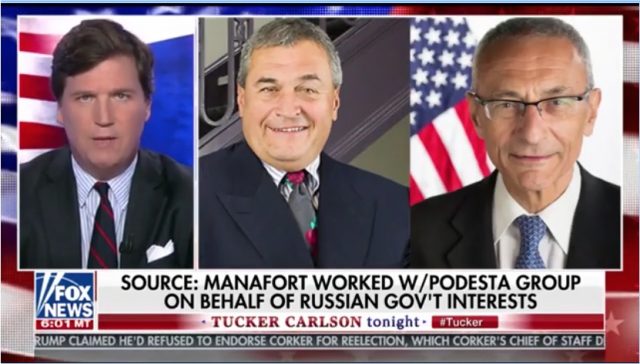 As news of Paul Manafort and Richard "Rick" Gates pleading not guilty to the various charges leveled against them by special counsel Robert Mueller spreads, speculation has ramped up as to who's next in the Russiagate dragnet.
Cue the spotlight and point it at Democratic mega-lobbyist Tony Podesta, founder of the Podesta Group and brother of Hillary Clinton's former campaign manager, John Podesta.
Tony Podesta's firm is apparently referenced in the Manafort indictment and today he stepped down from the Podesta group amid a rising tide of allegations that his firm acted untoward in their dealings with Manafort and Ukrainian clients.
Earlier this year, NBC News reported that the Podesta Group was in the cross-hairs of Mueller's investigation–apparently by virtue of the lobbying firm's relationship with recently-indicted Paul Manafort.
In an August 25, 2107 article, it was reported that the Podesta Group was one of six firms issued grand jury subpoenas in relationship to Manafort's lobbying efforts on behalf of former Ukrainian President Viktor Yanukovych. According to that report:
[Si]x firms participated in the public relations effort that Manafort coordinated, paid for by a Brussels-based non-profit called the European Center for a Modern Ukraine. The stated goal was to build support for Ukraine's entry into the European Union.

Two of the firms, Podesta Group and Mercury LLC, worked in Washington with Manafort partner Rick Gates, according to lobbying disclosure records. Three other firms worked in Europe…
Manafort's broader lobbying efforts were first reported on by the Associated Press in August 2016. Following those reports–and after Justice Department pressure–Manafort registered as a foreign agent for his Ukraine-related work.
Prior to that, Manafort was not previously registered as a foreign agent under the Foreign Agents Registration Act ("FARA") and this failure to register is one of the various charges filed against him in the indictment made public this morning.
However, at the time the failure-t0-register information was made public, neither Tony Podesta nor his firm were registered as foreign agents under FARA. After being pressured by the Department of Justice, the Podesta Group registered as well.
And just this afternoon it was reported by Politico that Tony Podesta will be stepping down from the firm he founded. His resignation comes just hours after the public learned of Mueller's first indictments in the Russia probe. That indictment reads, in part:
Manafort repeatedly communicated in person and in writing with Yanukovych, and Gates passed on directions to Company A and Company B…At the direction of Manafort and Gates, Company A and Company B engaged in extensive lobbying. Among other things, they lobbied multiple Members of Congress and their staffs about Ukraine sanctions, the validity of Ukrainian elections, and the propriety of Yanukovych's imprisoning his presidential rival, Yulia Tymoshenko (who had served as Ukraine President prior to Yanukovych).
The references in the Manafort indictment to "Company A" and "Company B" are believed to be euphemisms for the Podesta Group and above-mentioned Mercury LLC. Why the organizations are not referred to directly in the charging documents is unclear.
What is clear is that Tony Podesta's organization played a large role in the lobbying activities at the basis of Manafort's indictment and that his firm is apparently guilty of at least one of the crimes Manafort was arrested for today.
[image via screengrab]
Follow Colin Kalmbacher on Twitter: @colinkalmbacher
Have a tip we should know? [email protected]