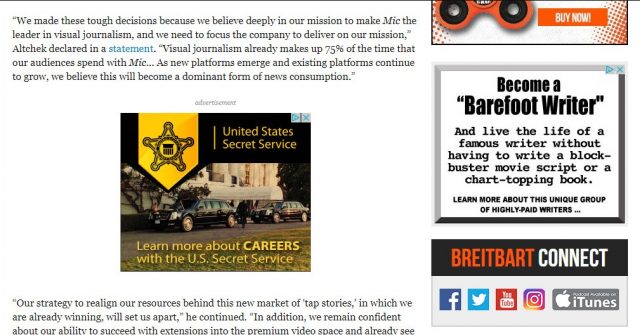 An advertisement recruiting for the U.S. Secret Service has been spotted on Breitbart.com.
In a tweet posted earlier today by Josh Stewart, the federal law enforcement agency's official seal appears on a square-shaped ad with text that reads: "Learn more about CAREERS with the U.S. Secret Service."
The U.S. Secret Service is advertising on Breitbart. Is this a thing? pic.twitter.com/vUpuyCk5dh

— Josh Stewart (@JoshDStewart) August 23, 2017
That ad apparently links back to the Secret Service's official website–under the tab marked 'Join' and a page offering the promise of "Careers With Integrity".
Reeling from the mostly false news of a budget crunch due to President Trump's allegedly excessive vacationing, the Breitbart advertisements are likely to cast some askance and curious eyes upon the agency tasked with the protection of current and former national leaders and investigations of financial impropriety.
Breitbart is controversial terrain for advertisers. The website is famously the once-and-current home of Steve Bannon, President Donald Trump's former chief strategist, where he serves as the executive chairman. In an interview with Mother Jones in July of last year, Bannon referred to Breitbart as "the platform for the alt-right."
Breitbart itself resists affiliation with the alt-right–especially since the prominence of the far-right strain in the aftermath of the deadly violence in Charlottesville earlier this month. They've been tied to Birtherism and the site regularly traffics in conspiracy theories, misreporting and falsehoods. In recent months Breitbart has been subject to a fierce advertiser boycott which has resulted in almost all of their advertisers running for the hills since President Trump's election.
It's unclear whether the U.S. Secret Service is advertising on Breitbart directly. Stewart himself pointed out that the ads appear to have been placed by Google:
Seems like it is via Google Ads, but the fact is, a government agency is spending tax dollars on Breitbart. Not great…

— Josh Stewart (@JoshDStewart) August 23, 2017
And, as another user pointed out, the ads may simply be function of Stewart being based in Washington, D.C.
But, as Stewart noted, the Secret Service could block their ads from running on Breitbart but have chosen not to do so.
LawNewz left a voicemail with the Secret Service's press office for confirmation and comment, but did not receive a response at the time of publication. This post will be updated when a response is received.
However, the optics remain–and so does the spending. A U.S. government agency is, at least inadvertently, directing tax dollars through a pillar of the alt-right community
[image via screengrab/Josh Stewart]
Follow Colin Kalmbacher on Twitter: @colinkalmbacher
Have a tip we should know? [email protected]